by
Mike Eisenbath
on Jun 27, 2014 in
Featured
,
Learn & Live the Faith
,
Live in Christ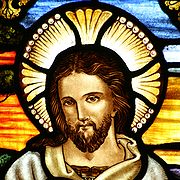 Some gifts are a mystery to me, to the point that people blessed with those gifts inspire me. I'm thinking of two in particular: People who build houses and artists.
They convince me to look at others in a whole new way.
One of the men at our Saturday morning prayer group spent most of his life building homes in the St. Louis area. Recently, we were talking about the Scripture that says "the stone which the builders rejected has become the chief cornerstone." We know, of course, that is referring to Jesus — that the Jewish people rejected Him as savior and He became the chief cornerstone upon which the Church was built.
Every time I hear that reading, I think about how some people — like my friend — can look at an empty lot or stacks of wood and see a beautiful house. Other people can look at a blank canvas and see a stunning image they will paint.
Vision. Holy vision. It is a rare gift.
We all can have that kind of vision. Sure, not when we look at vacant land or a blank canvas. But we can have it when we look at people.
Parents can have it when they look at their children. From the moment they hold their little son or daughter, a mom and a dad come to understand special abilities and dreams abiding within their children. Sometimes, what parents envision for their kids isn't really a true vision for what can be built, rather what the parent wants to see built. It is a "holy vision" when the parent sees the something special that God has in His designs.
Grandparents can feel the same for their grandchildren. Teachers can have that holy vision when looking at their students. Bosses can have it when they look at their employees.
Indeed, all of us can have that holy vision. It's a matter of looking through God's eyes and not our human eyes.
That isn't always easy. Some people have hurt us. They do bad things or live in a way that doesn't give us much hope. Perhaps we just don't like them. We don't want to spend time in their presence. Or they don't allow us to know much about them, which can blur our vision.
Intentionally looking at a person through God's eyes can change the way we develop that vision. You can see the need to forgive a person who has hurt you. You can see what life would be like for them if they stopped doing bad things or living a desperate life. You can see what they would be like if they were friendlier, helpful, considerate.
You can see what they would be like if they let others get to know them, overcame certain fears, actually trusted people. You can see what they would be like if they accepted God's love.
Believe it or not, that's unfamiliar to many people. They have rarely, if ever, been to church or read the Bible. They don't have a clue about how to pray, wouldn't know where to begin. Beyond the fact that He was a historical figure, they don't know Jesus. Consider that there is one way they can meet Jesus and His vision: You and your holy vision.
Thinking of anyone? Maybe someone with a huge heart, who loves family and friends but has been dealt a particular adversity and hasn't figured out how to handle it.
See what God sees. You can be kind. You can ask questions without prying, and you can provide answers to questions that person might not even know to ask. You can love in an unconditional way. They are lovable and worthy because He loves them. See into their heart and notice the good. Treat them that way. Show them.
Look at them as an empty canvas. Gaze upon that vacant lot. Then, be inspired.
And pray that someone will be similarly inspired when they look at you.