by
Patti Maguire Armstrong
on Oct 20, 2017 in
Featured
,
On TV and Movies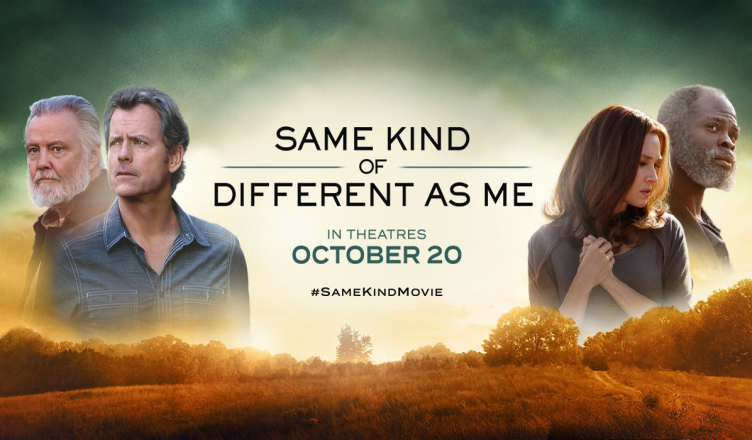 Forgiveness leads to happiness and the beauty of renewed relationships. It also led to the new movie, Same Kind of Different as Me.
Studies show that the happiest people are the ones that can forgive. This movie shows what it looks like to forgive what many consider the unforgivable—an extramarital affair. Based on the New York Times Platinum best selling book by the same name, it is the true story of a marriage renewed and lives changed after Ron Hall, an international art dealer cheated on his wife in 1988.
As a writer, I have come across many couples that did not just recover from infidelity but thrived, including stories in Amazing Grace for Married Couples, and from speaker Judy Hehr and marriage coaches Greg and Julie Alexander. I know there are many, many others. It is a testimony to God's grace that the best can be yet to come after such brokenness. In Same Kind of Different as Me, we see how the best was yet to come through the forgiving heart of Ron's wife. She led their family (they had two children) down a path to change their own lives and the lives of others.
Story Summary
Ron Hall (Greg Kinnear) is an international art dealer with an impressive home in Dallas but a crumbling home life. He keeps up appearances and lives on the surface, perhaps a habit he developed as a result of having an alcoholic father, (Jon Voight).
When Ron's wife, Debbie (Renée Zellweger), discovers his infidelity, she first unloads but later finds it in her heart to forgive on the condition that he joins her in volunteering at a local homeless shelter. Up until that point, their marriage had become a sham. Debbie fights for the relationship by filling it with deeper meaning and a shared purposed beginning with volunteering at a homeless shelter.
Ron is out of his comfort zone. When asked to serve at the soup kitchen, he tries to back out by writing a check. "Look, we need checks, and those homeless missions need checks, but they also need our hands," he is told by the kitchen manager.
Debbie convinces Ron to go along. While working in the kitchen, the couple meets Denver Moore (Djimon Hounsou), a homeless man with an intimidating exterior. He is a weary soul whose hard life has beaten him down. Denver keeps people at an arm's length. Debbie, however, had seen Denver in a dream and nudges Ron to make friends with him.
The relationship begins awkwardly. Ron sees Denver as just another violent, irresponsible homeless man, and Denver regards Ron as someone trying to make himself feel good by volunteering. In time, however, the two become friends.
The movie unfolds slowly by hanging out with the characters and getting to know them as they get to know each other. We watch the emergence of deeper love between Ron and Debbie grows to include Denver and the ministry to serve the homeless.
There is tragedy and pain ahead, but there is also healing and understanding that comes from it. My favorite line in the movie is when Denver says, "We are all homeless, just work'in our way home."
Real Lives, Real Changes
This is a story about how the lives of three people were changed through Debbie. Without her, there would have been no story. In the end, it is Denver who blesses them with his friendship.
Ron actually co-wrote the book with Denver and also co-wrote the screenplay. In the movie production notes, he explained that the idea for the movie came about through a conversation with Denver and him:
"'Mr. Ron, there ain't nobody ever gonna believe our story. We got to write us a book.'"

"And I said, 'Well, the funny thing is you don't read and you don't write, so who is going to write this book?' And Denver said, 'Oh, you know what I mean. I know my part of the story and I'm gonna tell it to you, and you write that down. Now you already know your part, so you go ahead and write that down, and when we get through we'll just put the two of those together and we'll have us a book.'"

"And so by then Denver had moved in with me, and we spent the next three and a half years at the breakfast table writing us a book."
Ron credited the kindness of his wife Debbie with changing him, changing Denver and changing the city by with increased awareness and efforts to help the homeless. Almost 30 years later, Hall, 72, is still a tireless advocate for the homeless.
Same Kind of Different As Me, rated PG13, opens in theaters Friday, October 20.