by
Robert Struble, Jr.
on Nov 18, 2013 in
Featured
,
Government & Politics
,
Interviews
,
On TV and Movies

"Marketing a movie rivals to some degree running a Presidential campaign."  So says two term US Senator and 2012 Presidential contender, Rick Santorum.  During last year's election cycle, Santorum exhibited his organizational and communication skills in winning eleven Presidential primaries, enough to give Mitt Romney a run for his money.
In part, no doubt, it was the common skill set that politicians and media executives share which inspired Echolight Studios to hire Santorum as its CEO.  He has been at the helm of Echolight since June.  Already "America's Fastest-Growing Faith & Family Film Company," Echolight hopes to accelerate its upward trend with the ex-Senator from Pennsylvania taking the lead on media outreach and public appearances.
In the last few months Santorum has devoted the great bulk of his time at Echolight toward marketing and distributing the Christmas Candle.  Based on the 2013 novelette by the minister and prolific Christian author, Max Lucado, it will be released in the US on November 22nd.  Lucado himself was "very involved" in the film's production and actually makes an appearance on screen. 
For the setting of his book Lucado chose the heartland of the English countryside and the enchanting village of Gladbury.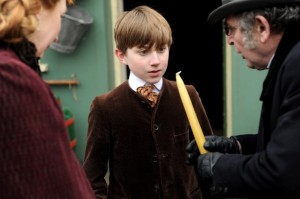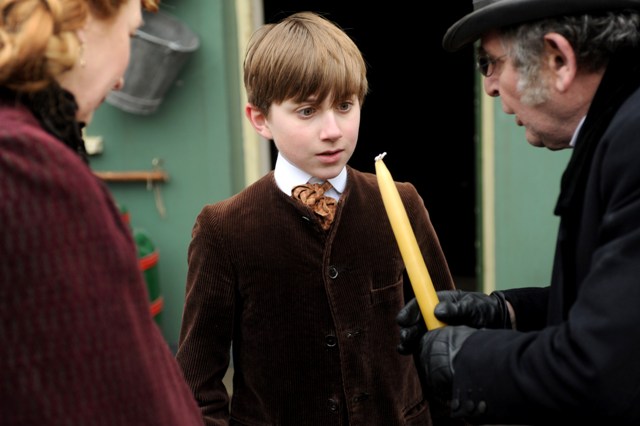 According to legend, every quarter century an angel visits the village candlemaker and touches a single candle. Whoever lights this candle will then receive a miracle on Christmas Eve. But in 1890, at the dawn of the electric age, this centuries old legend is about to come to an end – or so it is feared.
When David Richmond (Hans Matheson), a progressive young minister, arrives in Gladbury, the villagers hear his new formula for miracles.  The minister's message is that good deeds and acts of kindness will themselves work wonders.
David's quest to modernize Gladbury sets him at odds with the town's old world candlemaker, who finds an unlikely ally in lovely skeptic, Emily Barstow (Samantha Barks).  But when the candle goes missing, the miraculous and human collide in the most astonishing Christmas season the village of Gladbury has ever seen.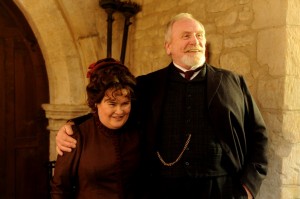 To be released on Friday, November 22nd, the film version features a cast of well know British actors, including Hans Matheson (Clash of the Titans, Sherlock Holmes), Samantha Barks (Les Miserables), Lesley Manville (Disney's A Christmas Carol), and Sylvester McCoy (The Hobbit Trilogy, Doctor Who).  Also staring is the Scottish singing phenomenon, Susan Boyle.
In a recent telephone interview with Catholic Lane, Sen. Santorum contrasted The Christmas Candle with the highly successful film Courageous (2011) produced by Sherwood Pictures, an affiliate of Sherwood Baptist Church in Albany, Georgia.  "That film was good story telling," said Santorum. 
 But we are really looking to appeal to audiences beyond just the faith market.  We're excited about the quality and the message is beautiful.  It's a Christmas movie about the real meaning of Christmas.  And I've challenged every other interviewer that I've talked to:  name me another movie, other than a Biblical based movie of the nativity, that's a Christmas film that had anything to do with the real meaning of Christmas.
About 1-1/2 years in existence, Echolight Studios is aiming, says Santorum, both to produce and to distribute films with "the quality to reach out to others who are outside that space," i.e. those who have tended to rely on the secular world for movies.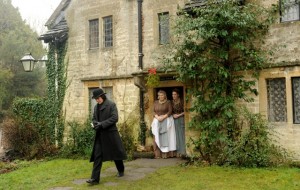 We asked Santorum if he thought that the parables in the Gospel might be analogous in some way to his using the film industry to promote Gospel values?
No question about it.  When Jesus quoted scripture he was generally chastising Pharisees in doing so.  And when he was trying to reach the average person, and trying to provide the tenets of the faith, he did so through stories.  …  Unfortunately we are not doing that.  As believers generally we have abandoned the field of culture, particularly the modern popular culture; we've opted to play defense instead of offense.
Santorum went on to quote Jesus, "upon this rock I will build my Church and the gates of hell will not prevail against us."  Here Sen. Santorum reminded me of a point made by Mark Shea, who develops the image of the gates of hell being unable to withstand the battering ram of the Gospel as brought to bear by the Church militant attacking Satan's infernal bastions.  More than once, Santorum emphasized the importance of taking the offensive:
 We've been on defense for far too long when it comes to arts and entertainment.  And I just felt like it's time to stop cursing the darkness, and light a candle, in this case a Christmas candle."
On the idea of spreading the Gospel through films, we asked Santorum how long he'd been thinking about involving himself in the film industry.  He indicated that it had not in the past been one of his passions, but …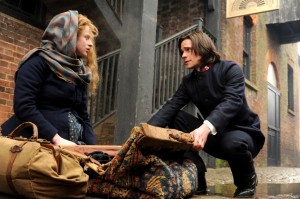 it just sort of came to me after the election.  I had a chief of staff who worked for me in the Senate who brought me up to speed on the film industry, and so I did have an interest in it. 
And as parents of seven children, you obviously cannot avoid the impact that the culture is going to have on your children.  We're big consumers of the culture.  We love watching movies.  That's a big part of our family entertainment.  I always said someone should be doing this.  Finally I said that someone should be me. 
I couldn't resist the urge to ask Rick about the comments sections in some film sites where we find people firing heavy flack his way.  We discussed the frequency of ad hominem insults.  "I'm used to that," he laughed. 
I continued: Is this where your political experience comes into play? 
It's unfortunate but that's just the reality of what you have to deal with when you're in political life.  You deal with folks who level those ad hominem attacks.
How do you deal personally and spiritually with such attacks and online heckling, I asked. 
Blessed are the persecuted.  That's it.  That's how I deal with it.  I feel blessed.  That by and large they're after me for things that are in the moral and spiritual realm.  And what better things to be criticized for than standing up for the teachings of the faith?
We then asked Rick if he had developed ways of keeping personal attacks in politics, and now in the entertainment industry, from seeping into his family life, from impacting his wife, Karen, and their seven kids.
That is the hardest part of this whole endeavor.  In the world today your family is out there on the front line because of social media in particular.  It's very, very difficult for them, and it's clearly unfair.  They did not sign up for this.  In a sense they did not really sign up to put themselves in a position to be savaged, in some cases truly savaged by the social media.
We wondered whether Karen's involvement with her husband's political campaigns had left her pretty well calloused to all this?
Well, I wish she were more calloused.  It's still a very difficult thing, to be honest with you.  It's hard. And so it's a struggle that we all have to deal with in politics.  And it's not fun.
After a little Google searching, I discovered that during the 2012 Presidential campaign, Karen Santorum was the subject of numerous news reports – especially by predatory media sharks on the left.  They had a field day with selected information dug up about her past.  Prior to Karen's longstanding marriage with Santorum (23 years +), she had cohabitated for a period of time with the late Tom Allen, a Pittsburgh obstetrician and abortion provider.  Allen died earlier this year at the age of 93 (his obituary is here). 
I began to perceive the meaning in what Rick revealed about his pro-life family having been "truly savaged."  Also, I reflected on how the media frenzy over Karen's past demonstrates the degree to which our society has been paganized and coarsened. 
It used to be that the media did not revel in uncharitable news accounts; photographs of FDR in his wheelchair were never publicized.  Despite widespread whispering about First Lady, Mamie Eisenhower, and her supposed drinking problem (it turned out she suffered from Ménière's disease) the press gave the rumors little publicity.  During JFK's lifetime, his extramarital affairs remained unreported. 
Now anything goes in the media.  What is sordid and lurid gets publicized without scruple.  Moreover, little credit or credence is attributed nowadays to repentance from a public figure's past sins. 
In Ezekiel 3:17-21, and in the parable of the lost sheep (Luke 15:3-7) we see the importance that God gives to reforming one's life, and the rejoicing celebrated in heaven over each repentant sinner.  But our impious society is disinclined to view human character as heaven sees it.  Postmodern pagans who dominate the media and entertainment industry see the Sacrament of Reconciliation (Confession) as just another silly Catholic tradition.
Nonetheless, Sen. Santorum has not ruled out running for the Presidency in 2016.  Last year he won eleven presidential primaries in States stretching from the Canadian border to the Gulf of Mexico, garnering some 4 million votes before he conceded to Mitt Romney.  In our interview, Santorum expressed disinterest in trying to return to the Senate, though he did state tentatively that he and Karen were considering and praying about another Presidential campaign.
On the question of running again, he did not seek his interviewers'* advice.  If perchance he were to ask, I would refer him to Joseph Addison, Cato 4.4, a work familiar to our Founding Fathers:
when vice prevails, and impious men bear sway,
the post of honor is the private station.
In 2006 Sen. Santorum wrote a foreword to a book about intelligent design of the universe.  I asked him if he planned to do a film on the subject, but Santorum considers Nathan Frankowski and Ben Stein's film, Expelled (2008), to be definitive.
Santorum has authored three books of his own and is working on two more.  One has to do with reaching out to working people – the job holders – and not only to the job creators, as he terms capitalist investors and entrepreneurs.  Another book in progress is a Santorum family project about Bella their five year old daughter who suffers from Trisomy 18, a life threatening and life-shortening genetic condition.  In his March 2013 article for Trisomy Awareness Month, Santorum writes:
My wife, Karen, and I believe that every life is sacred and that every child is born with the God-given right to live a rich and rewarding life. And this is just as true for children with disabilities.
_____
* Struble and Aaron Lynch interviewed Rick Santorum on October 31st, 2013.