by
ACN-USA News
on Feb 28, 2014 in
Featured
,
Those in Need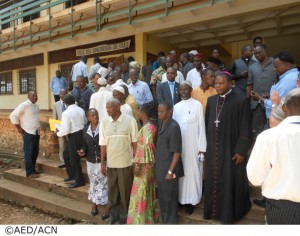 A local priest has reported on the looting, killings and rape that have followed the withdrawal of Seleka rebels into Chad from the Central African Republic, including the attempted rape of two religious Sisters.
Father Aurelio Gazzera,  Caritas Director of the Diocese of Bouar, made his report to international Catholic pastoral charity Aid to the Church in Need (ACN), saying it is urgently necessary that the rebels' withdrawal should be accompanied by protective troops.
The strengthening of the forces sent to the Central African Republic is "very much appreciated," but their operations must not be mainly restricted to the capital city, he added.
"Especially in the border zone, military protection is urgently needed to prevent assaults and massacres," Gazzera said.
The Italian Carmelite priest reported that recently, in an attack on a mission station in the border zone to Chad, two European religious Sisters and a voluntary helper only narrowly escaped being raped by members of Seleka.
The victims have requested that their names, their religious order and the location of the event should not be mentioned.
"One of the rebels who invaded the mission station held his gun to the head of one of the Sisters and tried to force her to undress. The other Sister and the voluntary helper were also sexually molested," said Gazzera.
The missionary Sister reported that the rebels debated among themselves whether they should tie the women up. Finally they changed their minds and merely settled for robbing the mission station.
"They wanted to force one of the Sisters to mount their motorbike. The Sister had to fear that she would be kidnapped," the Caritas Director reported.
When the rebels were approaching, one of the Sisters had the presence of mind to remove the consecrated Hosts from the tabernacle and consume them in order to prevent the rebels from desecrating them.
Father Gazzera also reported on a massacre that occurred on February 4 in the village of Nzakoun, which is also situated in the border zone to Chad, in which 22 people, among them 14 women, were killed in their homes and many houses were burned down.
The village's medical outpatient clinic was also looted and destroyed by a grenade.
Already on January 23, as he has only recently learned, 12 people, including four women and four children, were killed and five others badly wounded by Seleka rebels passing through the village of Assana, also situated in the border zone.
Over 150 houses were burned down, and here, too, the clinic was totally looted and destroyed.
"Even the refrigerator with the vaccines was destroyed. The people fled into the bush and have absolutely no medical care," the missionary stated.
However, Gazzera also described it as a "great injustice" that now the Muslim population, the great majority of whom have nothing to do with Seleka, must suffer from acts of vengeance by Anti-Balaka and in many cases have been forced to leave the country.
"From Bozoum, all 2,500 Muslims have fled with a convoy towards Chad. They include many friends with whom we had a good relationship."
"It is an injustice that now these people have also lost everything. In our parish church we celebrated a Mass in penance, because many of the non-Muslim inhabitants of Bozoum rejoiced when the Muslims were driven out. That is a sin!"
"For a peaceful future, the people must realize that one injustice cannot wipe out another, and that we should not rejoice over the sufferings of others."