by
James Littleton
on Jan 21, 2012 in
Featured
,
Government & Politics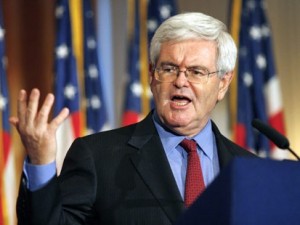 Republican Presidential Candidate Newt Gingrich's comments during the Presidential Republican debate on January 19, 2012 and the audience's reaction are telling, and saddening.
An angry Newt Gingrich criticized the media at the start of tonight's Republican presidential debate for focusing on questions about his personal life, including allegations that he asked for an "open marriage" with his second wife.
"I am appalled that you would begin a presidential debate with a topic like that," he said in a comment directed at the debate's sole moderator, John King of CNN. Gingrich drew applause from the debate's audience for his response. (emphasis added)
Earlier in the day, ABC News disclosed that Gingrich's second wife, Marianne Gingrich, told the network in an interview that in the 1990s her then-husband asked for an "open marriage" amid an affair with former congressional aide and current wife, Callista.

To take an ex-wife and make it two days before a primary a significant question in a presidential campaign is as close to despicable as anything I can imagine." (emphasis added)  (John McCormick and Kristin Jensen, ©2012 Bloomberg News)
Granted, the open marriage contention is an allegation, not a proven fact, which may or may not be true; however is it not a legitimate question and even an obligation to explore the moral background and positions of a presidential candidate? Have we come to the point in this country where the moral fiber of a candidate is irrelevant? What could be more relevant?
So Mr. Gingrich attacks the moderator and paints his posing of the question about his moral background as candidate for the highest public office in this awesome nation as despicable. And Mr. Gingrich receives applause, and by another account, a standing ovation.
Newt Gingrich earned a standing ovation from a South Carolina crowd Thursday night when he angrily rebuked moderator John King for opening CNN's Southern Republican Debate with a question about claims he'd asked his second wife for an "open marriage." (By MARK SCHONE , ABC Nightline)
What actually is despicable is the account of the moral behavior alleged, not the moderator who is fulfilling his duty to seek the truth and additional information about the allegation. The audience seems to see Mr Gingrich as the victim, and his moral history as irrelevant. I will be the first to say that a man is innocent until proven guilty, but the allegations need to be explored as our leaders need to be held to a high standard, that is if morality matters. What could matter more?
I am not one who thinks that politicians and public officials have the absolute capacity to redeem the country and the world to the full practice of Christian virtue and truth. They can only do their indispensable part. We all contribute to this mission. This happens one heart, mind, soul, and spirit at a time. But, the selection of the next president of the United States is certainly a most vital matter that we all have a duty to participate in fully.
What can we do? Keep living and proclaiming the truth including those truths about the sanctity and dignity of life and marriage (and yes, there are such things as objective truths) with our witness and yes our words too; and most importantly help to win graces for ourselves and others with our sacramental lives, prayer, and sacrifices. For it is only when reason is perfected by grace that it gains the capacity to understand and embrace the truth. Let's be confident in the truth as taught by the Holy Catholic Church, and which is summarized so beautifully and conveniently in the Catechism of the Catholic Church. Let's not fall into the enemy's trap of discouragement. We are beyond doubt, absolutely on the winning side. In the world you will have trouble, but take courage, I have conquered the world. (John 16:33 NAB)
Let's do our part to bring a morally upright man or woman to the White House. True, no one is perfect, but we can at least hope and work for someone who has the moral map of truth and is committed to try his or her best to live and govern by it. It all starts there. Praised be Jesus and Mary.