by
Patti Maguire Armstrong
on Sep 20, 2011 in
Featured
,
On TV and Movies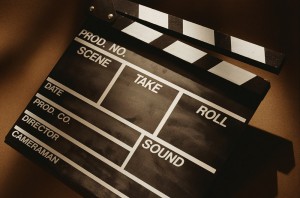 Sometimes our journey is lined with detours. We think we know where God wants us to be but then he sends us in another direction. For Pete Bauer, every time he seemed to draw closer to his goal, he was sent down another road.  In the end, however, every detour proved to be a time of preparation for his ultimate destination.
Pete, a Catholic husband and father of two, is the owner and director of Sonlight Pictures in Safety Harbor, Florida.  His path began at the University of Florida with a degree in Fine Arts. He acted professionally for a few years in theater, film, TV, and radio until he was diagnosed with Crohns disease, a digestive condition that can flare up without warning. His health issues prevented him from continuing to act.
When the door to acting closed, a window opened — an entry-level job at Nickelodeon Studios. Pete worked his way up learning a lot about filmmaking.  At the same time, he began screenwriting, even winning a few awards. Then, a Hollywood company wanted to produce one of his screenplays. It seemed that Pete was on his way to success but alas, the Hollywood studio wanted to spice up his screenplay with sex.  He declined, which meant killing the project. 
Working His Way up to God
Three years into Nickelodeon, Pete determined that the demanding schedule and long hours were too great a toll on his wife and toddler daughter. "All of this was a great faith struggle for me," said Pete.  "I felt the Lord had given me a certain talent and passion for filmmaking while, at the same time, he was keeping me from pursuing it fully."
A move to his wife's hometown, Clearwater, Florida seemed the answer. Pete received an offer to work at a local TV show. Then, intestinal surgery and complications confined him in the hospital for two weeks. By the time he was released, the job offer was gone. He moved in with his wife's parents, unemployed and recovering from major surgery.
His father-in-law helped retrain him in information technology where he got a job at a global manufacturing company and has been working there for thirteen years. It would seem to be a happy ending, but really, it was a new beginning. In a secure job, now with two children, Pete desired a closer relationship with God. He became aware of the many holes in his understanding of the Catholic faith, which until that time was focused more on feelings than God's expectations for him. "During this faith journey of self-catechesis, the more books I read, the more I wanted to learn," he said. "It is an astoundingly deep, complex, and encompassing faith — the only one that answers all of the questions correctly."
By now, it was the late Nineties.  Pete got involved in the emerging online micro-budget filmmaking community. The Internet was beginning to boom and, for the first time, there was the possibility of shooting a video, editing it digitally, and distributing it worldwide on DVD.
His creative yearnings led him to make a few award winning micro-budget films, and also to publish a book with interviews of cutting edge filmmakers who excelled at using no-budget approaches. While working his day job, Pete kept his hand in the industry, in a number of venues. After the movie, The Passion of the Christ came out, he took note that there was a niche market of Christian filmgoers. Surprisingly, Hollywood did not respond. When Sherwood Pictures' released the movie, Facing the Giants, it solidified that Christians would support good faith-based films.
The Christian movement within the industry and within himself, inspired Pete to start a Christian film company. "I fought this idea for a year or two," he said.  "I was actually afraid to ask the Lord about it. I felt the Lord wanted me to be an actor, and then that was taken away. Then I thought the Lord wanted me to work in television, but that was taken away. I was afraid of asking about making Christian films because it would perfectly fit my two passions, faith and film, and I was afraid he would take it away."
Sonlight Pictures
Through prayer, the feeling grew that God was asking him to start Sonlight Pictures. "So, one night, I couldn't sleep and ended up on the couch, asking what it was God wanted me to do," he said. Pete was hoping God would give his blessing on the new hobby but instead, he felt strongly that God was telling him that he needed to do this. It moved his interest in film making from hobby to vocation.
Right after that, Peter began Sonlight Pictures. During a conversation with one of his brothers, the course his life had taken suddenly made perfect sense. "Don't you see?" his brother said.  "God has been preparing you for this your whole life. You've worked in front and behind the camera. You know how to write screenplays and direct and edit films. In the corporate world you've learned how to manage people and multi-million dollar budgets. And all of your health issues have taught you to rely on God, especially when things get tough. See? This was his plan all along."
Pete's first project for Sonlight was a short film called Club God, which won the Bronze Award at the Faith Film Festival. His next project was a comedic web film series for teens titled nikki & babs: Dos and Doubts. Since his own teen daughter, Dorthea had caught the acting bug, she played the part of Nikki, a low-key teen who must spend the summer with her bubbly, pink-loving energetic cousin, Babs, played by Tiffany Ross.  They are two very different but very Christian girls who grow closer to God as they negotiate life and getting along. Topics are covered such as idol worship (rock stars), trust, vanity, envy and being judgmental.  The light-hearted acting gives way to serious Biblical lessons. Each 10-15 minute episode is especially suited for Youth Leaders, Teen Bible studies, and religious education classes.
?
The Dove Foundation, which rates films based on family friendliness and entertainment value, gave the series the Family Seal of Approval with four out of five Doves.  It noted there is no sex or bad language in the series. (It lost one dove for the episode in which a laxative is used and the girls hide out in the men's room to talk with someone.) It played at Winnipeg Film Real to Reel Film Festival and at the Phoenix International Christian Film Festival where it was nominated for best TV series.
"Our next project is a Christian romantic comedy called An Unfinished Work," Pete announced. "It will focus on the struggles of remaining chaste as well as the challenges of choosing God's will over your own," he said.
Pete said his goal is to continue making Christian films from a Catholic perspective.  Rather than focus on the conversion story sort of film — Saul to Paul — he wants to focus on the Paul to St. Paul story, where the protagonist turns to Jesus Christ to stay true to his faith.
The DVD nikki and babs can be purchased at just about any Family Christian Bookstore, online at Walmart and Amazon, or directly from the Cloud Ten Pictures distributor website located at:http://shop.cloudtenpictures.com/tv-box-sets/nikki-and-babs.html