by
Frank J. Gaffney, Jr.
on Apr 12, 2011 in
Government & Politics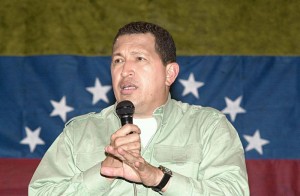 President Obama's recent trip to three Latin American nations was absolutely surreal.  For one thing, he launched a war against Libya from there.  For another, he lauded and pledged support for offshore drilling in Brazilian waters that he has shut down in our own.  And he spoke glowingly of the progress of democracy as though its forces were on the march in the region, rather than those of enemies of freedom.
What might have passed for Mr. Obama's willful blindness with respect to the rising threat posed by Chavismo – the rabidly anti-American regional campaign named for and sponsored by the dictator of Venezuela, Hugo Chavez – was revealed last week as perhaps something far more worrying, if not downright sinister:  A deliberate effort by the Obama Justice Department to impede U.S. access to a key witness to Chavez's multifaceted malevolence.
If any reminder were needed of the threat posed by Chavez, Sunday's election in Peru would provide it.  The top vote-getter in the first-round of presidential balloting there was Ollanta Humala, a military officer cut from the same radical leftist cloth as his ally and enabler who runs Venezuela increasingly with an iron fist.  If Humala prevails in the run-off, his increasingly prosperous nation will join Ecuador, Bolivia and Nicaragua in moving squarely into Chavez's orbit.
Add in the mentoring of the Castro brothers in Cuba and close working relationships with Brazil and Argentina through, among other channels, the insidious Forum of San Paolo, and you have a Latin America in which hostility towards the United States is fast becoming the norm, and freedom imperiled to a degree not seen since Ronald Reagan took on the Sandinistas in the 1980s. Mexico, long a buffer, is now embroiled in what some consider a civil war, effectively removing whatever impediments – however inadequate – previously existed there to migration into our country of dangerous elements from further south.
Meanwhile, unfriendly foreign powers – including China, Russia and Iran and terrorist groups like Hezbollah, Hamas and Islamic Jihad – are, with the active assistance of Chavez and his allies, establishing beachheads throughout the region.  Beijing is buying up resources and establishing intelligence operations; Russia is selling arms and reestablishing its Soviet-era influence operations; and Middle Eastern terrorists, both state-sponsors and their proxies, are joining forces with narco-traffickers to make money, convert locals to shariah and run smuggling operations into the United States.
An indication of just how serious a problem all this can become was revealed recently in an op.ed. in the Washington Post by one of the United States' top hemispheric diplomats, former Assistant Secretary of State Roger Noriega.  In it, he revealed that Hugo Chavez convened a terror summit in Caracas in August 2010, attended by senior members of Hamas and Hezbollah. The precise upshot of this secret meeting has not yet been revealed.  Suffice it to say though that no good can come of such brazen associations and that we should be doing everything possible to ascertain what they will precipitate.
The good news in that department is that Colombia has managed to apprehend a man who may be able to shed much light on just such questions: Walid Makled.  A Venezuelan of Syrian descent but known as "the Turk," Makled was arrested on a U.S. warrant in connection with his role as what has been described by InterAmerican Security Watch as "one of the world's most important, yet little known, drug lords."
In a recent television interview with Univision, Makled described Chavez's Venezuela as a "narco-state" in which the government was "100 percent" involved in narco-trafficking.  He implicated "40 generals" and "ministers, congressmen [and] governors" – including two top Chavez allies, Commander-in-Chief Henry Rangel Silva and intelligence chief Hugo Carvajal – in such activities.  The drug kingpin also claimed that the military was protecting Hezbollah's Venezuelan operations.
U.S. prosecutors have made clear their desire to extradite "the Turk" to the United States to stand trial for his crimes and to provide incriminating testimony against others. In an interview last week on Secure Freedom Radio, Michael Braun, a former top Drug Enforcement Agency official, declared that such testimony could be absolutely indispensible to American efforts to protect our nation against the various threats of which this top drug-trafficker has first-hand knowledge.
The bad news is that on Friday, Congressman Mario Diaz-Balart (R-FL) revealed on Secure Freedom Radio that he had confirmed an astounding, indeed scandalous, development:  Eric Holder's Justice Department had declined Colombia's offer to extradite Makled to the United States.  In that case, it seems "the Turk" will be sent back to Venezuela.  At that point, he will clearly be beyond the reach of American jurisprudence, assuming he is not simply liquidated in short order.
If Rep. Diaz-Balart's information is correct, the question occurs:  Why would the Obama administration not want to have the ability to interrogate comprehensively a man who purportedly knows a lot about one of this country's most determined adversaries and his far-flung network of criminal, terrorist and other anti-American allies?  A possible explanation is that President Obama would find it inconvenient to have to come to grips with the reality of what Hugo Chavez is about.  Is there another?
One thing is clear:  We as a nation cannot afford to be willfully blind about Chavismo and its architect.  Consequently, every effort must be made to get Walid Makled to the United States – and to withhold Miranda rights until he has been fully and competently debriefed.