by
Austin Ruse
on Feb 21, 2014 in
Cloning, Embryo Research & Genetics
,
Contraception & Abortion
,
Euthanasia & Assisted Suicide
,
Featured
,
Leadership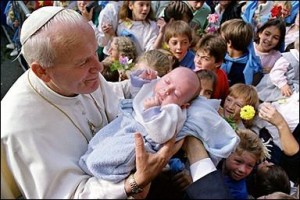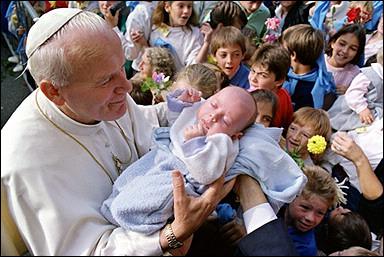 C-FAM and the Alliance Defending Freedom are hosting a conference in Rome to explore and celebrate the contribution of Pope John Paul II to the pro-life debate at the UN and his work in establishing a global pro-life movement.
The conference comes during the weekend of the canonization of John Paul II as a saint in the Catholic Church, expected to bring more than one million people to Rome.
Invited speakers include Blessed John Paul II's close collaborators during the seminal UN conferences in Cairo, Beijing, Rio and many others: papal spokesman Joaquin Navarro-Valls, Under-Secretary of State Louis Cardinal Tauran, and Secretary of State Angelo Cardinal Sodano.
Confirmed speakers include Papal biographer George Weigel, US Ambassador to the Holy See Raymond Flynn, chief Holy See negotiator John Klink, and Apostolic Nuncio to the UN Renato Cardinal Martino.
It was prior to the Cairo conference that John Paul II gave a series of Wednesday addresses in St. Peter's Square calling for all people of faith to drop what they were doing and go to Cairo and assist him in blocking an international right to abortion. Thousands answered his call and together they defeated the attempt to create an international right to abortion.
Those who had sought to get an announcement of such a right at Cairo have worked tirelessly to gain recognition of it surreptitiously ever since. Twenty years after Cairo, advocates remain frustrated.  Only weeks ago, former UN Population Fund head Nafis Sadik gave a speech in the Philippines blaming the Church for blocking abortion at Cairo, "I won't name the particular country, but maybe all of you know it, that particular country with a very small population of only men."
At Cairo and the subsequent conferences John Paul II also pulled together a coalition of UN Member States that became quite effective at working together. It included Catholic countries from Latin America but also a majority of Muslim countries. The coalition offended the left and the media who dubbed the coalition "the Unholy Alliance."
Over the years the coalition has consistently blocked a right to abortion, redefinitions of the family, and the introduction of sexual orientation and gender identity as a new protected class in international law. One expert points out that the sexual left at the UN has not advanced their agenda "even one syllable since the Cairo Conference, and in some ways they have been rolled back."
The effectiveness of the John Paul coalition has so infuriated abortion advocates that campaigns to have the Holy See thrown out of the UN General Assembly began in 1999. The push was renewed last year. Just this past week, a UN committee assaulted Catholic sensibilities by directing the Church to change its teaching on abortion, contraception and fornication for adolescents, an action that precipitated an angry global response from Catholics and others concerned about UN overreach and religious freedom.
The conference will be held at the Pontifical University of the Holy Cross on April 25, two days before the Canonization Mass in St. Peter's Square. The conference is open to the public but seating is highly limited. To reserve one or more of only 150 seats, go to http://tinyurl.com/ltx7838