by
Marge Fenelon
on Feb 25, 2014 in
Columnists
,
Featured
,
Parenting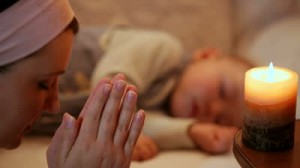 The case of the Pennsylvania woman who claims to have murdered at least 22 people makes me sad. Perhaps it should make me angry, but primarily it makes me sad. And worried for other such children who become prisoners of the occult.
Miranda Barbour, 19, has been charged with the November 11, 2013 fatal stabbing of 42-year-old Troy LaFerrara. Barbour met LaFerrara on Craigslist and, with the help of her newly wedded husband, Elytte Barbour. The Craigslist deal involved exchanging money for companionship. After her arrest, Barbour described herself as a serial killer and estimated that she'd killed less than 100 but at least 22 victims.
That in itself is tragic, but what makes this entire mess even more tragic is the fact that Barbour's father, Sonny Dean, has been aware of serious trouble with his daughter since she was in her early teens. Barbour ran away from home at the age of 13 and 14 and for years Dean has known of her heroine addiction and her disconntection with reality, which he described as her living in a "fantasy world." He told reporters that his daughter is a liar and a manipulator.
I have to admit that Dean's response to Barbour's testimony and arrest shocked me. Although he doubts that she is the serial killer she claims to be, he doesn't doubt her ability to murder, nor does he seem to doubt her guilt in the LaFerrara case. He also doesn't seem phased by the likelihood that his daughter will be executed. [Notice I said seems since no one can judge another person's heart and news reports don't always convey the true demeanor of the person interviewed.]
Dean wrote a letter to LaFerrara's family in regard to the murder and possible execution. "I would stand side by side with you, take your hand, and silently pray that some good may come of this," he wrote about the execution.
That made shivers run up and down my spine.
I don't know how Dean handled his daughter's waywardness until this point. I can't say I think I know how he feels, because I don't. I don't know what he's done spiritually for his daughter to prevent her from falling into the devil's grasp. It's not my right to judge. It is, however, my place as a Christian and fellow parent to pray for all involved in this cataclysm.
I do wonder one thing about this case. Did Sonny Dean realize that he can pray for protection and deliverance from evil for his daughter? Do other parents know this? Do YOU?
There is an exorcist I know, who is adamant about the obligation and right of parents to pray for their children's protection – regardless of whether the kids are still living at home or have moved out. He taught me a prayer for this purpose, and I wish, oh, I wish, that it could have been taught to Sonny Dean and all the other parents who watch their children fall into grievous sin at the hands of the evil one.
Here's the prayer:
Lord Jesus,
I ask you to protect my family [mention by name] from sickness, from all harm and from accidents. If any of us has been subjected to any curses, hexes or spells, I declare these curses, hexes or spells null and void in the name of Jesus Christ. If any evil spirits have been sent against us, I decommission you in the name of Jesus Christ and I send you to Jesus to deal with as he will. Then, Lord, I ask you to send your holy angels to guard and protect all of us. Amen.
Evil is no joke, and it's not to be tampered with, as Sonny Dean so tragically discovered. Don't be the one to discover after the fact that it's not to be tampered with. Parents, protect your children – before it's too late.
If you'd like to know more about protecting your loved ones from evil, I recommend Francis McNutt's book, Deliverance from Evil Spirits.