by
Msgr. Richard Soseman
on Nov 22, 2011 in
Columnists
,
Featured
,
Live in Christ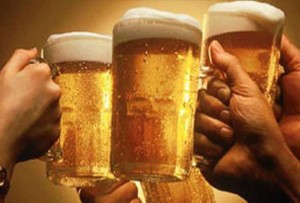 When I was 19, the day before I was headed back to college, I was in an explosion at a quarry where I had been working for the summer.  Some rock misfired, and headed toward me, and I broke my leg very badly. 
At the hospital two days after, they wanted me to start rehab, learning how to walk on crutches with the weight of a full leg cast, upon which I could place no weight at all, and how to maneuver up and down stairs and curbs. I was to start my first session in rehabilitation just after lunch.  The day before, when I had filled out the hospital lunch menu, I had indicated more choices than anyone would have planned.  Delicious food to be had for free; it was like being at a buffet.  When the tray came for lunch that day, I knew I had to eat it all, because, of course, I knew that "it's a sin to waste food," as I had always been taught.
So, that during that lunch I made myself eat everything that was presented to me.  I ate the meat and vegetables and potatoes and Jello salad and dessert, and topped that off with cartons of milk and water and of course, a large cup of hot chocolate.  Although it was August, a cup of hot chocolate had sounded so good the day before when I was filling out the menu, even if it was coming from the hospital cafeteria. 
I was 6'1" tall at the time, but  only weighed155 pounds.  After I stuffed myself with all that food, and hot chocolate, I could barely move, I felt incredibly tired and really needed to nap.  Napping is a tradition in my family; even dozing off for a minute or two, I can emerge fully restored and ready to face the challenges of life.
Before I could close my eyes, though, the hospital personnel came to take me to the first session of rehabilitation.  I asked if I could lay down first, and they replied "No, it is time for rehab."
I have to admit that I was feeling sorry for myself, too.  The day of the first rehab session was the day after I was supposed to have headed back to college for the year.  I had been at the Marquette Madrid Study Center my entire sophomore year, and was really excited about getting back to the Milwaukeecampus to see my friends, and get my new apartment set up.  Yet, here I was; instead of driving down the highway in my Opel at65 m.p.h., I was being driven, stuffed with food, down a hospital corridor at3 m.p.h. 
At rehab, I could barely move, weighed down with all that food and drink.  The technicians were really excited because I was to be among the first to use a special new orthopedic kind of crutch.  Instead, I was tired and sore, and although I felt like I truly did try as best I could, I could not fulfill any of the tasks they were asking me to complete successfully.  I was a failure. They were disappointed.  I was disappointed. They wheeled me back to my room, where I was able to get back into bed, and dozed off.   A nap at last!  After I woke up, I prayed my Rosary.  I was refreshed and renewed.
In the early evening, I had another appointment with rehab.  I was the same person with the same pains and weaknesses, but my attitude had changed completely.  As I was wheeled into the rehab clinic, I flirted with the nurses, joked with the doctors, encouraged the other patients, and when I got out of the wheel chair, I triumphed.  I fulfilled all of the rehab tasks, using the new crutches, in very little time.  The staff was all shocked, saying they had never seen a person do so terribly, and then do so well on the same day.  Then they said "you can go home tomorrow morning."  Attitude is 90% of the battle. 
Sometimes life can be very difficult.  We are tossed upon the seas of life by calamities.  We lose a job.  A loved one passes away.  A person who has been a big support to us is constrained to move to a distant city.  We suffer illness or financial collapse.  Life can get us down sometimes.
In an old movie with Jimmy Stewart, Call Northside 777, our star has just brought terrible news to an old, immigrant mother.  She has labored through thankless jobs for many years to put together a reward to free her only son from the death penalty.  Jimmy Stewart tells her that there is no hope, that he cannot help try to prove her son's innocence anymore.  She says to Stewart "If you go, I got no friend left."  After he has gone she cries softly to herself "No friends left…  no friends no more."  Then she moves toward her sideboard, where her gaze catches the statue of the Sacred Heart of Jesus.  She then speaks from her heart to her divine savior "Big fool me.  Sure I got a friend."
Not just this aged actress in a film noir, but all of us, each one of us has a friend in Jesus, and we are supported, sometimes visibly, sometimes invisibly, in His family, the Church.  Although we are sometimes unfaithful, God is always faithful.  Although we sometimes despair and turn away, Jesus constantly watches over us, desiring that we repent and return to Him.   Even while, remaining faithful, we are weighed down by incredible sadness, oppressed by life's burdens, at the edge of depression, we must remember that, pray as we should, we also must trust. 
When we have difficulty, we must turn to Jesus.  As we attend Mass, we turn to Him, and looking around, we realize that we are not alone, for we are mystically gathered into the body of Christ each time we are present.  Even if we know no one in Church at a particular time, we are there as one body, one family in Christ.
When you are in Church sometime, look around.  Others are suffering too; others are in great need of a relationship with Jesus. Even those who look normal, who look prosperous, who look like they have no care in the world, they too, are in need of Jesus, they are in need of his love, and motivated by faith they endure whatever comes.  Those around us at Mass also need us. They need our prayers, they need us to be faithful members of the Body of Christ to strengthen and sustain the whole body, to strengthen and sustain them. 
That day at rehab when I was worn out, when I was struggling in the hospital, I was not alone.   Our Lord was with me, Our Lady watching over me.  With the change in attitude, I was able to endure.   If you are feeling bad, pray, become spiritually refreshed, and realize that Jesus supports you with His grace.
When you are at Mass, look around at others, who similarly struggle, who deal with hidden problems themselves, and remind yourself "I many not be able to pray for myself, but I am going to do this for them, as they are enduring and praying for me!"  Attitude is important!  A spiritual attitude is everything!  With grace from Our Lord, and spiritual support from fellow members of the body of Christ, we can suffer through any difficulties, we can endure, we can overcome, and we can flourish!