by
Mike Eisenbath
on Apr 07, 2015 in
Evangelization
,
Featured
,
Live in Christ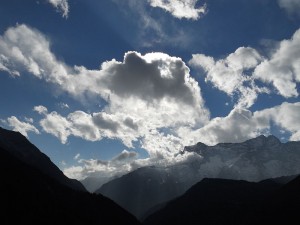 I love silence. I crave it sometimes, especially in a world that seems filled with noise 24/7. Radios and TVs, alarm clocks and iPods, CD players and Youtube, telephones and cell phones and people talking-talking-talking wherever we go.
It can be a challenge to hear God's voice over all of that noise. We might try too hard, though, much harder than required. Sometimes – many times – God speaks in the loud and powerful.
We can forget that our God is a mighty God.
So we often will try to find a moment of silence. We think that in silence there is peace, there is love, there is the call of God and whatever it is He wants to say to us. Sometimes, we actually want to hear what He has to say. So we look for the quiet places – Eucharistic adoration, a park, a silent retreat, a lake or a beach, a special spot in our house, maybe (if we're lucky) a few moments during Mass.
We try to tune out the world and train our ears to hear that still small voice …
"Be still and know that I am God."
That's Psalm 46, verse 11 — the first half of the verse, that is. There is something comforting, it seems, to love a God and worship a God who says we can know Him in stillness. Remember the story of Elijah, who was told by the Lord: "Go out and stand on the mountain before the LORD; the LORD will pass by." Elijah witnessed a strong and violent wind that was rending the mountains and crushing rocks. Then followed an earthquake, and then a fire. The Lord wasn't in the wind or the earthquake or the fire.
Then, there was a "light, silent sound." A whisper. A still, small voice. "Elijah hid his face in his cloak," we read in the First Book of Kings, because he knew God was in that gentle sound.
"Be still and know that I am God …" Then follows the second half of verse 11: "I am exalted among the nations, exalted on the earth."
Exalted … to praise someone highly, to present someone in a way that is very favorable. Seems to me that if you're going to praise someone or tell the world someone is special and very favorable, you wouldn't want to do that quietly. The second half of the verse indicates to me that if we are still, we will know He is God because we will hear very clearly and even loudly that He is exalted.
Go back a few verses. The Psalmist says that when God "utters his voice … the earth melts. … Come and see the works of the LORD, who has done fearsome deeds on earth; who stops wars to the ends of the earth, breaks the bow, splinters the spear, and burns the shields with fire."
A voice that melts the earth, a God who does fearsome deeds and breaks bows and splinters spears and burns shields – I don't know that we have to be silent to hear that God.
We just might need to pay attention and remember that He really is a mighty God. Elijah indeed heard the LORD in the still, small voice. Of course, God could be in a whirlwind, an earthquake or a fire if he chooses to be. Elijah didn't experience his voice or presence that way, but I'm sure many people have. And that shouldn't be surprising.

Yes, our God will call to us and we can hear Him if we can escape the noise. But our God is great and awesome and powerful and capable of doing anything. Anything.
Don't underestimate our God. Sometimes we actually weaken God's impact in our lives because we forget his might. We look at difficult situations and think, "Yeah, he's a powerful God. But he can't do anything about this."
Ah, but He can. Jesus did some amazing things: turned water into wine, healed lepers and the sick and the lame and the deaf and the blind, walked on water, calmed the storm, raised a man from the dead. Oh, and he suffered through excruciating torture, was crucified on a cross – and then defeated Death with His Resurrection.
He opened heaven for us. "With God," Jesus said, "all things are possible."

He is an almighty God. He made heaven – and earth. He made the sun and the moon and the stars. He made the sheep and the oxen and the beasts of the field, the birds of the air and the fish of the sea. He created lightning and thunder, the whirlwind and earthquake and fire. He made man.
"The one encouragement we can always give our children, and one another, is that God is more powerful than our sin," said author and retreat speaker Elyse Fitzpatrick, "and He is strong enough to make us want to do the right thing."
That's right. God is powerful enough to do anything you ask. And that includes making you do the right thing when temptation seems overwhelming.
If you need to find a silent, quiet place in the world, feel free. While there, ask God anything. Share your need with Him. Most importantly, ask Him to go to work in your life.
Then listen and watch. God will say it loudly. He will be exalted. And He will do it.
Never forget that our God is a mighty God.