by
Lisa Correnti
on Feb 11, 2013 in
Contraception & Abortion
,
Featured
,
Government & Politics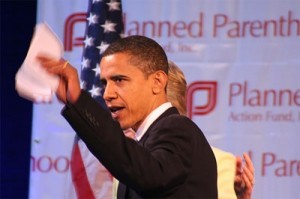 President Obama's appointments last month to his Global Development Council signal his intent to prioritize abortion over necessary life-saving health issues.
Obama established the Presidents Global Development Council by Executive Order a year ago and it includes up to twelve experts from private/non-profit/academic and philanthropic sectors.  Run by USAID, it will advise the president and senior administration officials on all aspects of U.S. global development policy.
Nine appointees were announced in December. The majority of them are associated with organizations that promote reproductive rights and population control policy.
Designated to head the Council is Dr. Mohamed A. El-Erian, CEO of PIMCO, a global investment firm.  An eminent economist, El-Erian served as a board member for the International Center for Research on Women (ICRW), which advocates for legalized and unrestricted access to abortion. The PIMCO Foundation issues grants to groups that advance sexual and reproductive rights in developing countries.
Another Council appointee is Dr. Sarah Degnan Kambou, considered an expert on sexual and reproductive health, and president of ICRW.  Dr. Kambou's earlier work with CARE included a project in India and Vietnam that sought to mainstream gender and sexuality by dispelling cultural and value-based norms.
William K. Reilly is a former administrator with the Environmental Protection Agency and former president of the World WildLife Fund, a wealthy group that promotes family planning for the conservation of natural resources. He serves on the board of the Packard Foundation, known for spending millions on population control programs, abortion training in Africa, and the marketing of mifepritone (RU486).
Two additional appointees are closely associated with the Aspen Institute — which supports family planning programs to remedy poverty; Dr. James M. Manyika, a trustee at the Institute and Smita Singh, the former founding director of the Institute's Global Health and Development Program.
Sylvia Matthews Burewell, president of Walmart Foundation and former president of the Global Development program for the Bill and Melinda Gates Foundation was also appointed. The Gates Foundation is a large supporter of abortion-related groups, with Melinda Gates securing commitments of $4.6 billion last summer at the London Family Planning Summit.
MIT professor of poverty alleviation and development economics, Esther Duflo is a founder and director of the Abdul Latif Jameel Poverty Action Lab. The Poverty Action Lab partners with groups working in developing countries to achieve sexual and reproductive health and rights.
Senator Diane Feinstein's husband Richard Blum, chairman and president of Blum Capital was also appointed to the Council. Senator Feinstein is a staunch supporter of abortion rights with a long anti-life voting record.
A recent global health study assessing deaths related to disease found that 1.4 million people, mainly children, died from diarrhea in 2010 compared to 37,100 from abortion related deaths. Yet well-funded foundations, rich individuals, and wealthy countries relentlessly drive the global public health debate toward lowering the fertility of poor women in developing countries and advancing abortion where it is restricted.
Funding for overseas reproductive health and family planning (RH/FP) programs have increased some 40% under President Obama. The USAID 2013 budget for RH/FP is $530 million. This is more than the budgets for tuberculosis, public health threats, pandemic influenza, vulnerable children, and nutrition combined.