by
Marge Fenelon
on Sep 03, 2011 in
Columnists
,
Featured
,
On Media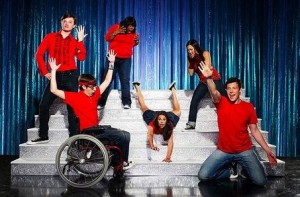 Recently, I noticed some social networking posts by a Catholic woman friend about her enjoyment of FOX's show, "Glee." This is a woman I respect so I assumed that "Glee" was a wholesome show that any Catholic woman could watch without worry to her conscience. I was enthusiastic in hope that, finally, prime time television was beginning to clean up its act. I'd intended to sit in on an episode or two during the season, but never got around to it.
I'm glad I didn't. As the September premiere dates approach, the networks are busy ramping up their advertisements for the fall schedule, including new shows and old shows made to look new. Simultaneously, the television watchdog groups are busy ramping up their advertisements warning us against these shows. Much to my surprise — and disappointment — "Glee" is one of them.
But… I thought my Catholic friend had good judgment! I still think she does have good judgment, but I also think that she, like so many of us, has become duped and desensitized to the subtle innuendos and disguised sinfulness displayed regularly on our television screens. We're brushing it off, passing over it, or perhaps not even picking up on it at all because it's become the entertainment norm.
"Glee" follows the activities and antics of an Ohio high school glee club. So, what's wrong with that? According to the watchdog group, Culture and Media Institute, the show contains lesbian sex experiments, drunken hook ups, masturbation, and unwanted gay-smooching. Sex and homosexuality are main themes throughout the episodes and still it's touted as a great show for the entire family by mainstream media.
There are some new shows coming this fall that are cause for concern, too. Consider "Free Agents," NBCs sitcom about two public relations professionals coping with the awkwardness of working together after a one-night stand. No, that's not just the first episode. That's the premise of the entire series!
"Whitney" is based on the humor of comedienne Whitney Cummings, known for her gutter-level setups. This highly sexualized show comes to you courtesy of NBC.
Now, I almost fell for this next one, because I actually think Zooey Deschanel is cute. But on FOX's "New Girl," she's a recently-dumped woman who moves in with three guys determined to help her rebound. The plots all revolve around the New Girl's quest for random sexual relationships after she discovers that her ex-boyfriend had cheated on her.
Worst of all is "The Playboy Club," another of NBC's voyeurs into the degradation of women.  Echoing Hugh Hefner's campaign for the objectification and exploitation of women, this series re-creates on screen what Mr. Hefner created in his "gentlemen's clubs." According to Coalition for the War on Illegal Pornography, "The dominance of pornography in American society, begun by Playboy, has led to great harms, including child sexual exploitation, greater demand for sex trafficking, addiction and destroyed marriages.  NBC's decision to air 'The Playboy Club' will only encourage greater acceptance of pornography AND THE SEXUAL EXPLOITATION OF GIRLS AND WOMEN." Need I say more?
Whether it's new shows or old ones, we must become savvy enough to detect the innuendos and sinfulness embedded in the words and actions of the characters on our television screens. Some shows, like "The Playboy Club," are dead giveaways just by their titles. And by "dead" I do mean death to the purity of our souls. Others, like "Glee" seem on the surface to be perfectly harmless. It's up to us to take custody of our own eyes and ears and the eyes and ears of our families in order to defend them against corruption and concupiscence. The networks aren't going to do it for us, nor can we rely on others' judgment, for they may be faulty due to desensitization. If others can be duped, even someone I so respect, so can we — more easily than we may think. The job is ours, and we should take it seriously.
At first I was alarmed because my friend works in Catholic media and I thought of how she might influence others. But then I realized – that applies to us all!  We all influence others, and all the more so because of the social media networks in which we can so quickly and maybe thoughtlessly share what we are watching and listening to with our friends near and far. Taking custody of our eyes and ears will not only protect our own souls but it will make us good influences on others as well. 
Here's a little prayer that our family has used for years, particularly when our purity is being tested. Perhaps we could use this prayer – or another like it, if you have one — as we evaluate the types of entertainment in which we'll take part. It's directed to the Vessel of Purity herself, our Mother Mary.
Ave Maria, Puritatis Tuae Causa (Hail, Mary, On Account of Your Purity)
Hail, Mary!
On account of your purity
keep me pure in body and soul.
Open wide to me your heart
and the heart of your Son.
Implore for me deep self-knowledge
and the grace to persevere
and remain faithful until death.
Give me souls;
keep all else for yourself.
Amen (Fr. Joseph Kentenich, Founder of the International Schoenstatt Movement)