by
Sr. Helena Burns, fsp
on Feb 15, 2012 in
Arts, Leisure & Culture
,
Featured
,
On Media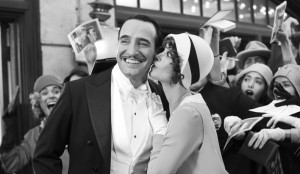 Why is The Artist being showered with so many international awards (and most likely a few Oscars)? It's all about bringing back the movie magic, which The Artist does. This black-and-white film focuses on visual storytelling, which is precisely what film is supposed to be. Anyone who has gone to film school will appreciate the forceful message here, summed up by the last word of the film, "Action!"
Filmmaking that is true to its pedigree tells the story visually. Lazy filmmaking tells the story through words and plenty of voiceover. The Artist must tell the story visually, you see, because it's a silent film. And there are those black backgrounds with white typeface dialogue every so often. But even these words were not needed. We could have followed everything without them. Brilliant.
George Valentin (looking like the real McCoy, a manly actor's actor, Jean Dujardin) is a middle-aged silent film actor. A chance meeting with aspiring young actress Peppy Miller (Berenice Bejo) begins the saga of her "talkie" career on the rise and George's "silent" stardom waning—due to his resistance to a changing world. In spite of their age difference and opposite fortunes, a love story develops. This certainly hearkens to those who cannot accept that we now live partially in a computer/digital/online/virtual world today. Companies like Blockbuster Video persisted in deep denial until it was almost too late.
Dujardin, who is up for an Academy Award for Best Actor, is alternately melodramatic (as the silent movie star), brooding, forgetful of the camera, and a camera magnet. He is able to prolong his gaze into and in front of the camera, as well as get us to prolong our gaze at him. He is a total natural. Dujardin nails the dapper peacock primping, preening and "mugging" of the times, completely comfortable in all kinds of limelight. A true creature of the screen.
Although the story is too light to ever be wrenching (accompanied by such a delightful, old-timey, bouncy, Depression-era, silver lining, sunny-side-of-the-street, orchestral soundtrack), its tender moments are truly that. Since much of The Artist depicts films within a film, the takeaway seems to be that life is a film. Life is a silent film that is much more about our actions than our words. I would say life is a drama, a liturgy, a dramaturgy with a Paschal pattern. Like a star, we're born, we grow, we shine, we fade, we die. And then we rise again.
I left the theater dancing. You will, too.