by
Sr. Helena Burns, fsp
on Jun 20, 2012 in
Featured
,
On TV and Movies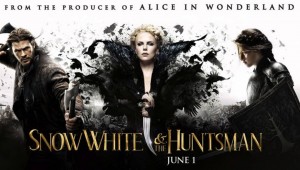 Snow White and the Huntsman is a delicious, delightful, old-timey, coat-of-mail-clanking, halberd-swinging, plucky princess story that we're already familiar with! The 21st century special effects make the film all the more nifty.
Dark-haired Kristen Stewart ("Bella" in the Twilight series) plays Snow White with her trademark Kristen Stewart stillness and seriousness. Blonde-haired, Oscar-winning Charlize Theron plays the evil Queen Ravenna with her trademark Charlize Theron fierce seizing of her role. They are worthy nemeses.
Ravenna had a deprived childhood, and her one all-consuming desire is to stay young and beautiful. A spell was cast on her as a girl that assured her of her wish. The only thing that could reverse the spell was if someone was found to be fairer and purer. But Ravenna maintains her drop-dead gorgeous looks by "eating youth": stealing the youth and beauty from young women around her whenever she starts to fade.
When Ravenna marries the widowed good king (Snow White's father) she immediately kills him and imprisons Snow White. But one day, when Snow White "comes of age," the magic mirror tells her that Snow White is now fairer than she. The only way Ravenna can stay young and beautiful is to eat Snow White's heart.
Snow White manages to flee into the magical, menacing Dark Forest, and the rough but good-hearted Huntsman (Chris Hemsworth) is sent after her by the Queen. Instead of capturing her, the Huntsman and Snow White make a wary alliance with one another. Prince William (Sam Claflin)—Snow White's childhood friend—is also on the scene with forces fighting the Queen's brother, her army, and trying to protect and restore Snow White to the throne of her father.
There are deep Theology of the Body themes and imagery: Eve and Mary, men being able to see women's true beauty and meaning, men respecting the God-given influence women are intended to have over them and over themselves, just as men have a God-given influence over women.
Only Snow White could take out Ravenna. This could also be seen as a woman struggling within herself. The good woman has to kill the bad woman inside.
As Ravenna enhances her beauty through evil means, the whole kingdom, the whole world around her dies and decays. Good men become bad men. Wow. Women can change men for better or for worse. For the change to be for the better, the Immaculate Heart of Mary must reign in this world, and women must become other Marys.
(This film is OK for younger children. Not scary or gory. Just fantastical.)