by
Kevin Symonds
on Jun 19, 2011 in
Featured
,
On TV and Movies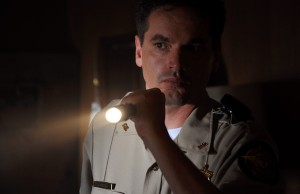 On Tuesday, May 10th, together with two co-workers, I headed down to Menomonee Falls, WI to attend a promotional screening of the movie Courageous.  Courageous is the fourth production of Sherwood Baptist in Albany, GA.  Sherwood's previous productions are, "Flywheel," "Facing the Giants" and "Fireproof."
Facing the Giants was Sherwood's first big hit, followed by the largely successful Fireproof.  Each movie has a particular emphasis and Courageous is no different.
Courageous endeavors to present in an attractive manner the theme of fatherhood.  The main plot surrounds five men, four of whom are cops.  Most are a combination of being mediocre dads, poor husbands or lukewarm followers of Christ.  An unthinkable horror strikes one of them, Adam Mitchell, forcing him into a six-week study of God's design for fatherhood.  Mitchell shares the fruits of his study with his friends and unveils a "resolution" he created.  All five men agree to live out this resolution and are tested in their resolve.
Accompanying the central plot are various sub-plots that come together to demonstrate the concerns and desires of a father's heart for his family and society.  This message reflects a larger ideology and movement that calls upon men to be authentic witnesses to manhood in Christ, though there is no clearly discernible link made in the movie with this larger movement.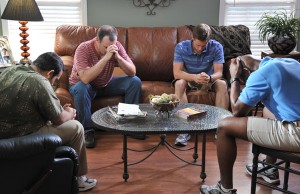 As a Catholic, I must note the lack of a sacramental economy that pervades the movie.  Understandably, Sherwood sees through the lens of Protestant theology on sin and grace/faith and works and this intimately affects the plot of the movie.  Mercifully, this choice is not as prevalent as it could be and is primarily demonstrated in one scene, though undertones persist throughout the entire film.  This danger to faith and good morals might deter some viewers; however a well-catechized Catholic can easily identify these and ward others away from them.
Theological deficits aside, this movie has a lot of potential to arouse noble sentiments within the hearts of men and communicates many valuable conceptions on life and manhood.  Personally speaking, I laughed, I cried (sometimes back to back) and at the end, I felt in my own heart that the message had been received.  It is said that our culture has largely neglected or forgotten the true meaning of fatherhood.  I can say that as I truly felt edified after watching Courageous, I believe that other men will likewise be inspired to seek Christ more profoundly.
Overall, I would give Courageous 4 out of 5 stars as the story is well-written, moving seamlessly between gravity and levity, but the theological deficits are a cause for concern.
Courageous will be in theaters September 30.