by
Barb Lishko
on May 13, 2014 in
Featured
,
Women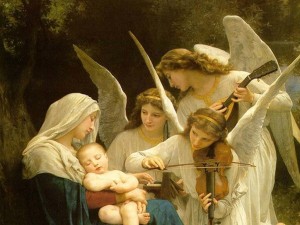 This past Sunday in the continental U.S. mother's everywhere were remembered and cherished by cards, calls and candy — not necessarily in that order or limited to those means of gratitude. I too am a mother and now a grandmother, but it wasn't always so.
The road to motherhood was deliberately delayed as I made the decision based on the loudest voices in my sphere of influence. Being on the road to marriage, it was recommended that I seek to "protect myself" so that no unplanned or unwanted child might be born until we deemed it so. We were the decision-makers of our world and nothing should happen without our direct intention to make it so, as Captain Jean-Luc Picard so eloquently declared each episode of Star Trek the Next Generation. No surprises were allowed, unless they were the sparkly brilliant kind.
While we were successful in thwarting any unwelcome new life (can you say selfish?) for the first year and a half, the yearning to be called mom grew in my heart, so I ceased rendering myself infertile. Low and behold we were successful in conceiving a child months later but not without some complications.
It seemed I couldn't get a positive pronouncement on the pregnancy until magic number five, at which point I began to spot. It was very little at first and then became more of an issue as the weeks ensued and we neared the end of our overseas assignment. Exactly two evenings before we were to depart the country, what felt like labor pains persisted into the night. I realized that something was terribly wrong.
At the hospital I was told I was losing our child, but that it was okay, it was so small after all and the best thing in these situations. Many women have miscarriages and I was another faceless number among the crowd. It didn't minimize the pain any less, physically or emotionally.
After being released from the hospital, we were just twenty-four short hours from departing the country and heading home to U.S. soil. We couldn't of known then that it would take years of trying and failing. We couldn't grasp the implications this failure would have on our marriage as the months dragged on becoming years. No, all we knew is that we tried and that while saddened by this loss, there would likely be another pregnancy right around the corner.
It's surreal to think back on how I berated myself at the time, taking on the weight of consistent and radical failure day by day, month by month to obtain a pregnancy. There really are no words to describe the utter desolation I felt as the time crept along and we got left behind with each new announcement of someone else's impending birth reached our ears.
So what's the big deal, God? I would shout as tears rolled down my cheeks soaking my pillow. I'm a good person, why the punishment? Why the delay?
As it goes with miracles I have learned that the more impossible the situation the mighter God has an opportunity to show off. This came in the way of a side trip to Lourdes, France as my father sought a miracle of his own through the intercession of another Mother with kindness beyond compare, we prayed and bathed in the miraculous waters.
Returning to our home base we discovered within a short time that we had finally conceived. What was previously impossible, had suddenly become possible. Our doctor was baffled but pleased. He had no medical answer, and we needed none. We knew our prayers were answered, and all that time of grief was replaced with untold joy. It was through our own miracle at Lourdes that the infertile desert had become a fruitful oasis.
Nine months gave way to a son, our pain and longing but a distant memory. Before us lay our love manifest and tangible. Cuddly, precious and a gift beyond all treasure. God's generosity bestowed in the tiniest of packages.
Why do I attribute any part of this miracle to another Mother? Our prayers all along begged the intercession of this heavenly Mother that I too might know the joy of motherhood. You see The Blessed Virgin is there, given as a gift from her Son on the cross, to us. Mary isn't just Jesus' mother a random receptacle who was handy at the time, she is Jesus' Mother. Deliberate, unique, a hand-picked holy and spotless vessel worthy enough to enflesh the Second Person of the Trinity. She was "full of grace." Jesus gave her to us at His Crucifixion, sharing His mother with us all.
What does that mean practically speaking?
It means that we have an advocate in heaven. One that is right there where her Son is. Mother's know best. They know when to give us a little push, and they are our biggest fans. Mothers never forget their children and think they are the greatest most awesome children in the world.
Mother Mary loves each of us with a mother's heart. Mother's never give up on their children and Mary will never give up on trying to bring us to her Son. That's the kind of Mother I sent my prayer requests too. Prayers I know would be hand delivered to her Son.
So don't forget your heavenly Mother as you remember your own earthly mother and if you have never gotten the chance to say "hi mom" now is as good a time as any.
Happy Mother's Day, Mother Mary. Thanks for all the wonderful attention you have given me and all of your children. Thank you for countless prayers on my behalf and on all the wonderful children we have personally been gifted with. You are a model of humility, generosity, faithfulness and pure feminine genius. May I be like you, and surrender myself asking that you lead me more perfectly to your Son.