by
Mike Eisenbath
on Dec 16, 2013 in
Featured
,
Live in Christ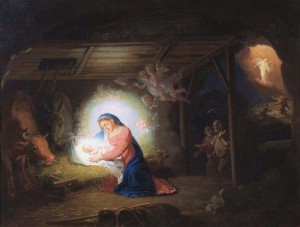 I regularly receive an email called "Daily Heartlight." It features reflections by a rotating group of people, all of them Protestant and most of them preachers. Most of my spiritual reading is Catholic, but I find these often have good insight about faith and Scripture.
As we're approaching Christmas, several reflections have involved Mary and her role in bringing our Savior into our world. I don't remember any previous reflections this year mentioning Mary at all.
Protestants don't know what to do with Mary. For many of them, she's just a character in small parts of the Gospel story.
As Catholics, we know better. Don't we? Well, here's my confession to you as fellow Catholics: Until recently, I didn't get the whole "Mary thing."
That probably strikes some devout people of our faith as blasphemous; honestly, it makes me feel a little guilty. All those statues in every church I've ever visited. All the times I have recited the Rosary. In grade school, we prayed the weekly Perpetual Help devotions — I still can recite the Memorare. And I remember a nun advising us that whenever our minds wandered an unwanted direction, to softly whisper "Mary, make me pure."
Mary always has been more than a character in a story to me, more than a pregnant teenaged girl who rode a donkey to Bethlehem and gave birth in a stable.
She struck me as the first genuine disciple, the best example of a Christian that we have, a truly selfless woman whose "yes" should be my goal as well. I could see her as the greatest of all saints.
But I had trouble getting a handle on the many devotions to Mary, which I thought bordered on fanaticism for some people. I believed the Church teaching about Mary's virginity, immaculate conception and assumption into heaven. I also thought some in the Church might have taken things too far, that they might have elevated Mary into a "divine goddess."
I have a better understanding now because of two things I experienced this year.
The first was a retreat I attended at the Abbey of Gethsemani in Kentucky. One of the talks focused on Mary and her role in salvation. He highlighted a title for Mary that I never had heard before: Spouse of the Holy Spirit. Coincidentally, at the same time I was reading the book "Consoling the Heart of Jesus," written by Father Michael Gaitley, and he also used that title. I found myself more curious about Mary and how she might enhance my spirituality, help bring me closer to Christ.
The second eye-opening experience was a 33-day "retreat" I made with members of my Saturday morning prayer group. We all read Father Gaitley's book "33 Days to Morning Glory," with a different selection each day from Nov. 5 until Dec. 7. The ultimate goal: total consecration to Jesus through Mary.
Two events have taken on greater significance for me:
The wedding feast at Cana, at which Mary informs Jesus the hosts are about to run out of wine, then instructs the waiters: "Do whatever He tells you." This is what Mary tells us as well and what all our attention on Mary should involve. "The whole goal of true devotion to Mary," Father Gaitley writes, "is our ongoing, post-baptismal transformation in Christ."
At the cross, when Jesus looked down at Mary and the apostle John and said, "Woman, behold your son. (Son,) behold your mother." Noting that Jesus actually was talking to all of us, Father Gaitley says, "Mary is uniquely, particularly, personally your mother and my mother, and she doesn't lose us in the crowd."
I still struggle about asking for Mary's help when I can go directly to Jesus, but I'm talking more with her. I'm recognizing that as my spiritual mother, she has a unique heart, a special relationship with her son and a desire for me to know him better.
She is so much more than a character in a story.