by
ACN-USA News
on Sep 17, 2013 in
Featured
,
Those in Need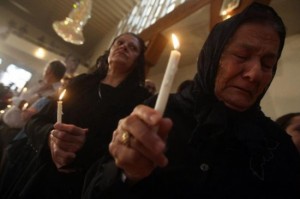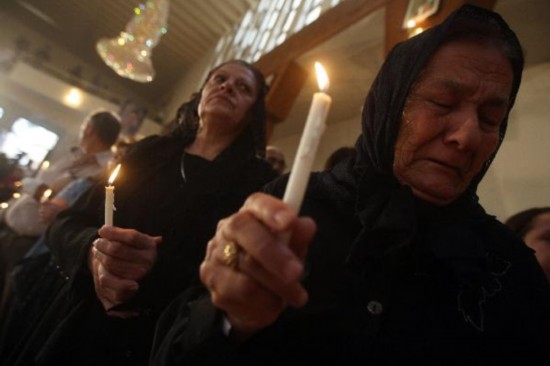 A Syrian prelate, ordained a bishop only last month, has spoken of his dismay at the country's mass exodus of Christians, but he is convinced that the future of one of the world's oldest Church communities is assured.
Melkite Greek Catholic Bishop Nicolas Antiba of Bosra and Hauran described how his faithful in southern Syria were fleeing in their hundreds to the area around his bishop's house in Khabab following attacks which included the destruction of reportedly one of the country's oldest churches, dating back to the 6th century.
Referring to the attack on the 542 AD St. Elias' Church in Izraa, he said the exodus of Christians from Syria risked becoming as bad as in Iraq, where most faithful left their homes.
Bishop Antiba stressed the urgent need for help for displaced people arriving in Khabab and elsewhere, including food and shelter, a problem which he said will become more acute as the weather worsens.
In comments echoing those last month by Melkite Patriarch Gregorios III, who ordained him bishop on August 25th, 2013, the 67-year-old said the crisis is being exacerbated by the influx of fighters and weapons from abroad, which for Bishop Antiba are like "a cancer" threatening to destroy the country.
Bishop Antiba also went on to reiterate calls for an end to plans for foreign military intervention in Syria, saying that his message to President Barack Obama is "leave us alone."
Amid reports that up to a third of the country's Christian population is now internally displaced or living as refugees abroad, Bishop Antiba said, "I believe, I know, that persecution will not destroy the Church."
"The blood of the martyrs gives new life to the Church."
"I have the hope that we will continue to live here as Christians. Yes, we will be fewer in number, just look what happened in Iraq, but I don't think the country will be left without Christians."
He was speaking after attacks earlier this month on the ancient Christian town of Maloula, which was attacked and occupied by Jihadi groups.
Christians fleeing the town spoke of direct attacks on Christians and reports emerged that the fighters wanted "victory over the infidel."
Earlier, Patriarch Gregorios told ACN that 450,000 Christians in Syria, nearly a third of the total, had fled their homes.
Bishop Antiba said, "Christians are a peaceful people. They do not fight, especially in Syria, where we have been living with tranquility without any problems."
"We are the people who have no way to fight. Instead, we are a peaceful people who are the first ones who are attacked."
"Christians have suffered very greatly. We are still suffering. It is not easy."
He reiterated calls for the US and its allies to abandon options favoring a military strike.
The bishop said, "I hope that [the US and its allies] will leave us alone. If arms continue to come into the country, the situation will get worse. It is not Syrians who are fighting Syrians. Those involved in the fighting are non-Syrians."
He said, "Instead of bringing arms into our country, bring peace. Arms are like a cancer, a foreign body that threatens to destroy us."
Calling on the US to keep out of Syrian politics, he said: "I would say to President Obama, you always talk about peace… please leave us alone and put these ideas of peace into practice."
"You have your own idea of democracy and it is beautiful but it is not necessarily our idea of democracy; let us work out our own idea of democracy."