by
Ben Johnson
on Dec 19, 2013 in
Featured
,
Law & Justice
,
Marriage
,
The Homosexual Agenda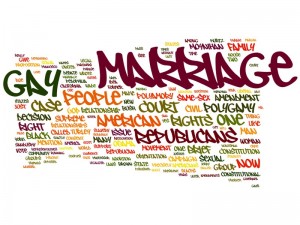 A federal judge may have put polygamy on its first step to legal recognition, striking down part of a Utah law that criminalized plural marriage.
The lawsuit was brought by Kody Brown, star of the TLC reality series Sister Wives. Brown lives with Meri, Janelle, Christine, and Robyn, and their brood of 17 children. However, he is legally married only to Meri.
Utah, a majority Mormon state that had to outlaw polygamy before being admitted to the union in 1896, deems living together in the manner of a polygamous couple a felony.
U.S. District Judge Clark Waddoups ruled on Friday that the state could continue to ban polygamy "in the literal sense – the fraudulent or otherwise impermissible possession of two purportedly valid marriage licenses." But it could not arrest people who voluntarily choose to live together in a common law plural marriage.
Waddoups cited the legal precedents that led to same-sex "marriage" and abortion-on-demand in his 91-page ruling in Brown v. Buhman.
Waddoups cited Lawrence vs. Texas, the 2003 Supreme Court case that ruled a Texas anti-sodomy law "unconstitutional." The ruling, written by Justice Anthony Kennedy, cited foreign law in its legal reasoning and played a large role in two Supreme Court cases this summer striking down bans on gay "marriage."
The judge also used the legal framework that granted a constitutional "right" to abortion-on-demand, saying polygamy in all but name fell under the couple's right to privacy.
Waddoups said legal precedent since courts outlawed polygamy have resulted in "a significant strengthening of numerous provisions of the Bill of Rights, and a practical and morally defensible identification of 'penumbral' rights 'of privacy and repose' emanating from those key provisions of the Bill of Rights." The "penumbral" quotation is taken from Griswold v. Connecticut, the Supreme Court precedent that created the "right to privacy" later employed as the basis for a constitutional "right" to abortion in Roe v. Wade.
In essence, he said, the couples had the right to arrange their sexual life as they wished, as long as they did not hold more than one marriage license at a time.
Critics said the ruling eroded legal protections given to children and significantly harmed society.
"This ruling confuses the private desires of individuals with the institution of marriage as a whole," Dr. Jennifer Roback Morse of The Ruth Institute told LifeSiteNews.com. "I have no doubt that these individual women and Mr. Brown are living this plural marriage lifestyle voluntarily. What I dispute is that they are the only ones affected by changing the law to permit plural cohabitation or plural marriage."
"Polygamous societies look very different from monogamous societies," Dr. Morse told LifeSiteNews. "In polygamous societies, wealthy men are at a huge competitive advantage over men of average means. The wealthy men, in effect, take more than their share of women. This triggers a whole series of reactions. The society begins to sanction the marriage of younger and younger women, sometimes no more than girls, to satisfy the demand for brides. The men grow more and more possessive and treat women more like possessions and less like people."
"I challenge the advocates of legalized plural marriage to find an example of a polygamous society in which these things have not happened," she said.
Following this summer's setbacks on gay "marriage," family advocates say society is increasingly putting adults' libidos ahead of children's health.
Tony Perkins, president of the Family Research Council, asked, "Can we as a society any longer even define marriage coherently?"
"Throughout history, marriage has been future-oriented, focused on the next generation and the best interests of children. The reality is that society needs children, and children need a mom and a dad," he said. "However, redefining marriage to fulfill the desires of same-sex couples or polygamists only moves society away from this vital public interest and creates social chaos."
Russell D. Moore, president of the Southern Baptist Convention's Ethics and Religious Liberty Commission (ERLC), agreed.
"This is what happens when marriage becomes about the emotional and sexual wants of adults, divorced from the needs of children for a mother and a father committed to each other for life," he said. "Polygamy was outlawed in this country because it was demonstrated, again and again, to hurt women and children."
"Sadly, when marriage is elastic enough to mean anything, in due time it comes to mean nothing," he added.
Polygamy advocates rejoiced at the decision.
"Now that we're no longer felons, that's a huge relief," Anne Wilde, the co-founder of the pro-polygamy group Principle Voices told The Associated Press. "This decision will hopefully take away the stigma of living a principle that's a strongly held religious belief."
Brown, who belongs to a fundamentalist Mormon offshoot known as the Apostolic United Brethren Church, also said his case had been founded on religious liberty.
"While we know that many people do not approve of plural families, it is our family and based on our beliefs," Brown said in a statement. "Just as we respect the personal and religious choices of other families, we hope that in time all of our neighbors and fellow citizens will come to respect our own choices as part of this wonderful country of different faiths and beliefs."
Moore responded, "When reality TV scenarios drive our judicial decisions, we've truly reached a strange time in American life."
Conservatives said the decision vindicated their longstanding argument that, if gay "marriage" were legalized, there would be no way to continue to forbid polygamy, or perhaps incest.
Rick Santorum said on Twitter, "Some times I hate it when what I predict comes true." Santorum said in 2003 the Lawrence decision would lead to polygamy.
"We have warned of this slippery slope for years," said Mat Staver, the chairman of Liberty Counsel. "Same-sex 'marriage' is the abolition of marriage and will destroy the most basic foundation of family and civil society."
Aside from pro-family groups, the shocking decision made few waves at the national level.
Utah Governor Gary Herbert, a Republican, made a far more restrained response, saying today that he had not yet read the decision but would "much rather see decisions on social issues" made by elected legislators instead of unelected judges.
But opponents of the ruling say it is the substance, rather than the process, of legitimizing polygamy that concerns them.
"No one is taking responsibility for the systemic changes to marriage," Dr. Morse told LifeSiteNews, nor thinking about "how a change in the laws that seems to protect individuals turns out to have long-term, systemic affects that harm lots of people."
Waddoups, a well-respected private attorney, was appointed to the bench by President George W. Bush in 2008 without any previous judicial experience.