by
ACN-USA News
on Dec 18, 2015 in
Featured
,
Those in Need

By Oliver Maksan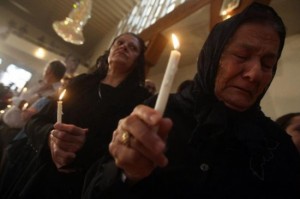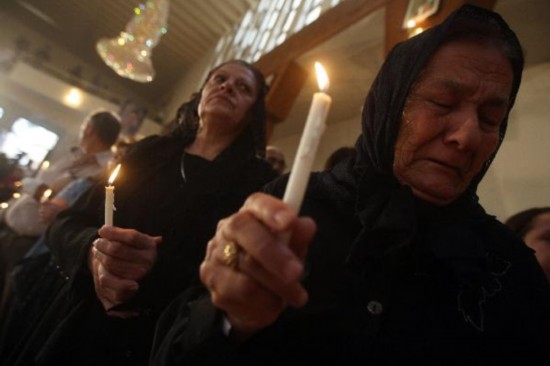 The Holy Year of Mercy, solemnly inaugurated by Pope Francis in Rome Dec. 8, 2015—on the Feast of the Immaculate Conception—is being hailed by Catholics throughout the Arab world International Catholic charity Aid to the Church in Need (ACN) gathered some impressions.
Father Dankha Issa is a Chaldean monk in Alqosh. Last summer, hundreds of Christian refugees found refuge in the city after their villages were seized by jihadists. The ancient, exclusively Christian city is situated in the northern part of Iraq. As the crow flies, only about 10 miles separate the monastery of the Virgin in the Corn Field from the front line ISIS-held territory.
"We are very thankful to Our Holy Father that he has proclaimed a Holy Year of Mercy. It is a time of grace for us," the priest told ACN. He himself had been forced to flee Mosul in June of 2014 after it fell to ISIS, or Daesh, as the terrorist organization is known in Arabic. Father Issa said: "This Jubilee gives us new hope. Let us hope that this year will extinguish the fires of hate and bring peace.
"In this year our attention is particularly drawn to how merciful God is with us sinners. God forgives us. But this also means that we have to forgive each other. Even the people of Daesh, who have done so many evil things to us. After all, as a Christian you also have to love your enemies. This is almost humanly impossible. But it is easier through faith. God is capable of everything."
In Egypt, Father Beshoi has been the priest in Azareia, a Christian town in Upper Egypt near Asyut. The Coptic Catholic cleric wants to make the sacrament of penance more accessible to his parishioners again, saying: "We need the forgiveness of God. Here, there are a lot of cases of revenge because of insults to family honor. These are often caused by something trivial. But the situations often escalate until there are casualties.
"And that happens here—even though only Christians live in our town. But they have assimilated to the Islamic culture that surrounds us. In Islam, God is only seen as a lawmaker who metes out punishment when His commandments are not heeded.
"However, I want to change this mentality. I want to show God to my brothers and sisters as a merciful Father who forgives us. However, this is also why we have to forgive each other. Thus, the Year of Mercy has come at just the right moment for me."
The Holy Year is also being celebrated at the outermost Western edge of the Arab world. Admittedly, there are hardly any Catholics living in Morocco and the vast majority of these are foreigners. However, the small local Catholic community takes an active part in the life of the World Church.
A good example are the Sisters of the Carmelite convent of Tangiers. "We embrace the Holy Year with pleasure and gratitude. It is a great grace that we want to experience together with the entire church. With all of our poverty and weakness and in recognising our sinfulness, we are on our way to the Father, whose embrace we have need of," Sister Maria Virtudes told ACN.