by
Marge Fenelon
on Jan 18, 2013 in
Columnists
,
Featured
,
On Books
,
Women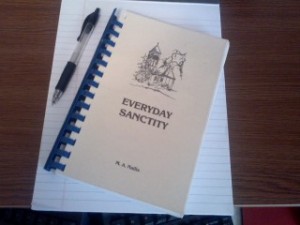 I'm working my way through a book called Everyday Sanctity, written by Schoenstatt Sister of Mary, M. A. Nailis. With texts from it's founder, Fr. Joseph Kentenich, this volume addresses one of the pillars of the Schoenstatt Apostolic Movement, everyday sanctity, which is the practice of giving everyday life the character of holiness. Although it's become a mainstay guidebook for the movement's members, it's an invaluable tool for anyone striving for holiness regardless of affiliation, state of life, or level of spiritual maturity (or lack thereof, which is often my own case).
I've gone through the book before, but figured it would be a great handbook during this Year of Faith. Like everyone else, I'm always in need of conversion and deepening of my faith, and what better way than working on it a little each day – everyday sanctity?
I  got off to a good enough start, but I'm finding myself in the midst of some serious wheel-spinning these days. So, instead of trying to go it alone, I thought it would be interesting (and helpful, let's face it) to invite you along on my journey. Sometimes, when the car gets stuck in the mud, it only moves with a push from behind, so to speak…
Last year ended with an array of interesting obstacles, but I gritted my teeth and kept moving ahead, determined to be the everyday saint I'd been reading about. Besides, I was certain 2013 would be better, right? Wrong. I still haven't moved on to the "Obstacle Free" zone.
I actually was doing pretty well – everybody has obstacles in their lives, right? – until I discovered that I'd torn some ligaments in my foot. Oh, boy. I griped. I complained. I ranted. I threw a bona-fide hissy-fit. And then I did it all over again to my poor husband when he got home from work. You see, it's not the injury itself that's causing me pain (it's pretty manageable, to be honest). Rather, it's the pain of having to squeeze in thrice-weekly physical therapy sessions, treatments, plus time-consuming at-home care.
Wanna know what really got my goat? Being banned from our brand new elliptical machine (the one I'd been dreaming of for  two years) until my foot's healed, and that'll take at least 3-4 months! That'll happen if, and only if,  the podiatrist vehemently warned me, I do everything he's instructed me to do. Who told him about my rebelliousness, anyway? And, in case you have any spare sympathy, I'm also banned from the treadmill or any kind of exercise walking. So much for cardio-fitness, stress release, an excuse to listen to James Taylor on an iPod, and kissing holiday weight gain good-bye.
Of course, God has his amazing and frequently humorous (at least to him, I think) ways of getting through to us. The Everyday Sanctity passage I "randomly" chose for today is this:

"God is far more pleased with a man [or woman] who does something because he expresses a wish, rather than a command, and who complies with the counseling will of God."
Not at all what I wanted to hear today, but definitely what I needed to hear. For as much as I hate it, I have to admit that God has expressed (whew, what a way to express himself!) his wish that I accept the torn ligaments as part of his counseling will. It'll take me a bit more effort to grasp the "counseling" part, but I sure get the "will" part. Frankly, the only thing I find consoling in this whole situation is that I know God's a LOT smarter than I am, and therefore his will is completely flawless.
As I hobble around today, stopping my work for icing, stretches, and medication, I'll think back to the lines from Everyday Sanctity and remember that this is God's wish for me and accepting it willingly instead of fighting against it will be most pleasing to him. That's everyday sanctity.