by
Mike Eisenbath
on Jul 05, 2013 in
Featured
,
Live in Christ
,
Men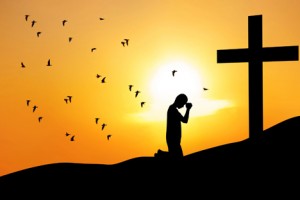 The "God moment" arrived during the performance of a high school musical one year ago.
Not that it should have been confused with just any high school musical. This was the Youth Sing Praise program, an outstanding combination theater camp and religious retreat that has been operating for one week in June for the last three decades.
It is held at the National Shrine of Our Lady of the Snows in Belleville, Ill. Extremely talented youth from throughout the country arrive one weekend, then work with a professional theater staff while also praying and exploring their spiritual lives with a group of youth ministers. At the end of the gathering, the teens pour their hearts and souls into trying to communicate their experiences with God with an audience of thousands, who watch the performance on a Saturday night.
Past shows have included "Godspell" and "Jesus Christ Superstar." In 2012, the musical was "Children of Eden," written specifically for Youth Sing Praise almost 30 years ago by Stephen Schwartz — whose many other credits include "Godspell" and "Wicked."
My wife, Donna, has been the program director of Youth Sing Praise for about a dozen years. So I had seen past performances of "Children of Eden," which focuses on the stories of Adam and Eve, Noah, and their often challenging relationships with God — whose character in the musical is "Father." And I knew what to expect from the kids. Every year, I tend to be dazzled by the singing, dancing and acting more than the actual Christian message of the show.
But spiritually and mentally, I was in a different place on June 23, 2012.
As some of my readers might know, I had been in a dry condition for a few months. Save for a peaceful experience on a weekend retreat, I hadn't felt God's presence no matter where I turned. It left me feeling lost and lonely. What's more, I couldn't pray, so even as God wasn't talking to me, I couldn't find the words to speak to Him. Always a devoted man of daily prayer, I turned mute.
It wasn't a good time for me to feel abandoned.
You see, what I wasn't telling many people was that the major depression I had been dealing with for 10 years increased to a dangerous level. I couldn't get out of bed or get a shower or get dressed or get to work. I ended up taking a medical leave from my job.
I was sick; the depression was severe. Suicidal thoughts bugged me from the moment I woke up until I fell asleep, with sleep lasting only a few hours each night. My doctor offered a chance to enter an inpatient hospital program; instead, I chose an intensive outpatient group therapy approach.
Perhaps I should have gone into the hospital. The night of April 28, I suffered a seizure — a reaction to an "overmedication incident." I spent a few days in the hospital, then dedicated myself to therapy, even though the thoughts of taking my life remained intense. Because of the seizure, Missouri law didn't allow me to drive for six months, a daily reminder for a while of how close I might have come to dying.
Eventually, I shared all of those thoughts with family and friends, who provided as much love and support as I could ask. When they heard I couldn't pray, Donna and several friends said they would do all the praying for me until the words returned. "You have carried the ball for others for a long time," one friend said. "Let us carry it for a while."
I was moved often to tears and great humility.
But selfishly, I wanted to pray. I wanted to hear from God. I wanted to know firsthand from Him that He was there in my most frightening hours.
Adam and Eve experienced many of those same feelings in "Children of Eden." After Father expelled the couple from the Garden, a paradise where they enjoyed constant interaction, He stopped talking with them. Adam and Eve didn't want to stray too far, though, because they constantly waited for Father to speak again, to call them back to Eden. Adam died before that happened. As Eve was nearing her death in the musical, Father finally spoke.
They chatted just a bit, then both were silent. Finally, Eve said softly: "I have missed you, Father."
I started to cry. I forgot about trying to force the words of the "Our Father" or holding a rosary, about suicidal thoughts and seizures and medicine, about praying the Divine Office and friends praying for me. I forgot about feeling abandoned or worrying about the real strength of my faith.
At last, I found the simple words to speak to my God.
"I have missed you, Father."