by
Fr. Edward Looney
on Feb 06, 2015 in
Featured
,
Live in Christ
,
MyChurchParish.com
,
On Books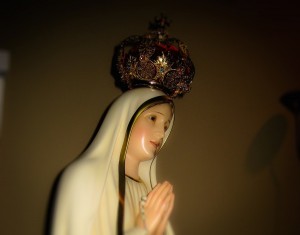 Fr. Emil Neubert, SM, one of my favorite Mariologists, wrote many books on Mary including Mary and the Priestly Ministry and My Ideal, Jesus, Son of Mary. Recently, the Franciscans of the Immaculate, through their publishing house, Academy of the Immaculata, have renewed interest in Father Emil Neubert by translating his French works from the 1950's into English.
In one of his works, Mary's Apostolic Mission and Ours, he described Mary's relationship to Christ's ministry, how her mission continues today, and how all people are called to assist Jesus and Mary in their missions for the world.
Neubert summarizes Mary's mission in the following way:
 "Mary's mission is to snatch souls from Satan so that she might make of God's enemies who are ready to fall into hell, his friends, his well-beloved children, who will praise him eternally in Heaven. … But since she has need of us, Mary cannot achieve these results without our help" (p.288-289).
I cannot think of a better way which captures Mary's mission of snatching souls form Satan and our cooperation in that mission than Mary's own description of her mission that she shared with Adele Brise during an 1859 Marian apparition in Wisconsin.
Mary identified herself as "the Queen of Heaven who prays for the conversion of sinners." Not only did Mary say who she was and what she did, she also told Adele, "and I wish you to do the same. You received Holy Communion this morning and that is well, but you must do more, make a general Confession and offer your communion for the conversion of sinners."
Mary invited Adele to participate in her mission of praying for the conversion of sinners and gave her specific guidelines on how Adele could help her in that mission.
When people think about the Shrine of Our Lady of Good Help, the sanctuary which commemorates the Marian apparitions received by Adele Brise, they often think of the message of catechesis, the miraculous preservation from the Peshtigo Fire, and the many miracles people report today.
Often overlooked is Mary's request to pray for the conversion of sinners. Each year thousands of people attend Holy Mass at the Shrine. Unfortunately, they may not know about Our Lady's request to Adele about offering her Holy Communion for the conversion of sinners. Maybe they do not know how to articulate such a prayer.
I am happy to share a prayer I have written for the Shrine which has received ecclesiastical approval from the ordinary of Green Bay, Bishop David Ricken. The prayer, found at the end of this article, makes an intentional offering after Communion for the conversion of sinners. I'd encourage you to copy the prayer into your notes app on your phone or take a screen shot of it, and pray it the next time you are at Mass.
Imagine the efficacy if we all did what Our Lady asked in Champion. If everyone offered their Holy Communion for the conversion of sinners, maybe our family members would return to Mass; or maybe abortion would end or the pornography industry would crumble, not because we have outlawed immorality, but because hearts were converted.
If you are a daily communicant, consider offering each day for a specific conversion of an individual or group of people. One day for your family members who have fallen away, for your friends, for yourself, for abortionists, and the list goes on.
Throughout the years Our Lady has made numerous requests. She emphasizes the sacraments and calls us to prayer. Let us heed the voice of our Mother, and in so doing, participate in her apostolic mission, which we share in through her invitation.
PRAYER AFTER HOLY COMMUNION FOR THE CONVERSION OF SINNERS
Penned by: Rev. Mr. Edward Lee Looney
Eternal Father, I kneel before you this day with a grateful heart because you have allowed me to receive the Body and Blood of your Son Jesus in Holy Communion.
Thank you for sending the Queen of Heaven to earth with a message calling us to conversion and emphasizing the sacraments. For when she appeared to Adele Brise in 1859, she asked her to offer her Holy Communion for the conversion of sinners. Just as Adele did long ago, I wish to do likewise this day.
I offer to you, Eternal Father, the Body, Blood, Soul, and Divinity of your Son, for the conversion of sinners, including my own conversion, in reparation for sin, and the salvation of souls. Through Our Lady's maternal solicitude may the hearts of hardened sinners return to the sacraments of Penance and Eucharist, especially to Sunday Mass, and to daily prayer.
As I go forward from this Holy Mass, help me to fear nothing knowing that you are with me and are always guiding me and that Our Lady constantly intercedes for me. Make me aware of your presence this day and always. Amen.