by
James Littleton
on Feb 28, 2013 in
Featured
,
Health & Fitness
,
Live in Christ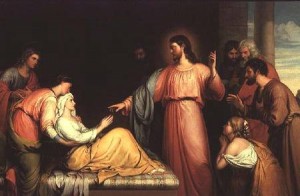 The greatest among you must be your servant. Whoever exalts himself will be humbled; but whoever humbles himself will be exalted. (Matthew 23:11–12).
God's ways are not naturally our ways. God calls us to be servants or slaves to others.
Humility is truth, that is the truth of who we are, including the good and bad. The truth is that we are beloved children of God, each of us, no one excluded. This is assured. The truth is also that God is God, and we are not. He is our creator and savior, and He is all knowing.
In constant battle with the virtue of humility is the ego or self. We have a tendency of being self-centered. I have found through experience that the best means of making progress in achieving some measure of humility is through humiliations and the cross, especially those crosses that God arranges for us, which tend to cut the deepest into the hidden regions of our being where the ego hides. The ego and the devil have this in common: they try to remain hidden so they can be most effective.
Humility is a key virtue, a foundational virtue. Other virtues are difficult if not impossible to acquire without a meaningful measure of humility.
If the cup or vessel of our soul is full of our ego and pride, then there is no room for God to fill it. If, with God's help, we empty our cup of self, then there is room for God to fill our cup with Himself and His virtues of faith, hope, love/charity, prudence, justice, temperance, and fortitude.
And from pride preserve your servant, never let it dominate me. (Psalm 19:13, JB).
In my life, I have had to accept and even seek help from others at different times, especially during my illness. This is a cross and humiliation. When my business was doing very well about thirteen years ago, I was in the position of being able to help others with gifts of money. Though I willed and tried my best to give God the glory when I was in a position to help others, I felt powerful and self-sufficient having the means to give monetary help to others. In retrospect this was much easier than humbling myself to receive gifts from others in my need. It is much easier to give than to receive in this sense.
It can seem impossible to eradicate a disordered ego. It seems the best we can do is to knock it down time and again through whatever means we have available. It cannot be killed. It keeps coming back to rear its ugly head. The reality of our disordered ego is part of the battlefield of life where we have the opportunity to fight, to grow in holiness, and to give glory to God.
Some means of keeping the disordered ego at bay include the Sacraments, prayer, seeking God's readily available help, acceptance of crosses and humiliations, and focusing our lives on serving others. I have noticed that the happiest people are always those who are the most generous and giving of their time, talent, and treasures.
Cancer and other heavy crosses heal us in that they are efficacious means of attaining the queen virtue of humility by giving Jesus room to come in and crowd out the ego.
Jesus is the quintessential model of humility. One of Jesus's final acts on His last evening before His death the following day was to humbly wash the feet of His apostles. We look at John 13:4–5, 13–15:
 [Jesus] rose from supper and took off his outer garments. He took a towel and tied it around his waist. Then he poured water into a basin and began to wash the disciples' feet and dry them with the towel around his waist….
"You call me 'teacher' and 'master,' and rightly so, for indeed I am. If I, therefore, the master and teacher, have washed your feet, you ought to wash one another's feet. I have given you a model to follow, so that as I have done for you, you should also do."
The apostles' feet were likely very smelly, disgusting, and filthy after a hot day of walking in sandals through the dirt. To wash their feet was the dirty, humble work of a slave. Jesus was giving us an inspiring model to follow of humility and service. Let us follow our Master's example.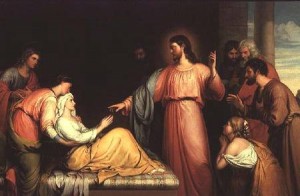 Do nothing out of selfishness or out of vainglory; rather, humbly regard others as more important than yourselves, each looking out not for his own interests, but [also] everyone for those of others.
Have among yourselves the same attitude that is also yours in Christ Jesus,/ Who, though he was in the form of God,/ did not regard equality with God/ something to be grasped./ Rather, he emptied himself,/ taking the form of a slave,/ coming in human likeness;/ and found human in appearance,/ he humbled himself,/ becoming obedient to death,/ even death on a cross./ Because of this, God greatly exalted him/ and bestowed on him the name/ that is above every name,/ that at the name of Jesus/ every knee should bend,/ of those in heaven and on earth and under the earth,/ and every tongue confess that/ Jesus Christ is Lord,/ to the glory of God the Father.
Philippians 2:3–11
Yes, Jesus humbled Himself! Yes, Jesus is Lord! Let us take up our cross this Lent and follow Him. Jesus, please increase the virtue of humility in my soul so that I might grow closer to You. When I have You, I have Everything! Jesus, I trust in You!
(Excerpt in part from Healed Through Cancer and Other Adversities, by James M. Littleton)