by
Catholic Lane Administrator
on Mar 13, 2013 in
Featured
,
Live in Christ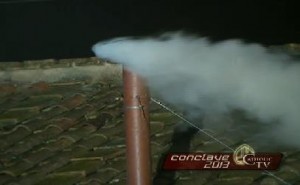 At 7:08 pm Rome time, white smoke began billowing from the chimney of the Sistine Chapel indicating that the 115 cardinal electors of the Catholic Church have chosen a new Pope.  The new Pope succeeds Benedict XVI, who resigned the papacy February 28.
This election comes on the fifth ballot since the cardinals were first secluded in the conclave on Monday afternoon.
It is expected that the new Pope will be introduced to the world in about 45 minutes to an hour. From the balcony of St. Peter's Basilica, he will address the large crowd that is now gathering in St. Peter's Square to greet him and give them the first papal blessing.