by
Patti Maguire Armstrong
on Sep 27, 2017 in
Featured
,
Live in Christ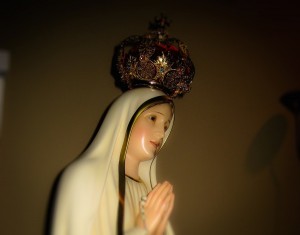 The spate of natural disasters has opposing sides arguing: Global warming! No…chastisements! Is it the final battle where the earth rises up in a heated rage or one where God says enough and shows us that he means it?
I am not interested in that debate. Both sides agree that we have messed up. Our best next step should be running to our Mother. In the Bible, Jesus responded to his mother when she reported that things had gone wrong at the wedding at Cana. He took care of it because his mother asked him.
At Fatima, God sent Our Blessed Mother to warn us that were messing up and to pray and repent. It is clear that there has not been any improvement. So run! We have all we need to know in Fatima where word of a final battle was mention by the Blessed Mother to the 3 shepherd children in Fatima.
Before the death of Fatima visionary Sister Lucia dos Santos in 2005 at the age of 98, she wrote in a letter to Cardinal Caffarra, Archbishop of Bologna, Italy: [T]he final battle between the Lord and the reign of Satan will be about marriage and the family. Don't be afraid, she added, because anyone who works for the sanctity of marriage and the family will always be fought and opposed in every way, because this is the decisive issue…
Indeed, the war is on. The Blessed Mother came to show us the way to peace. We are to pray, offer reparation and fight for the family.
100th Anniversary Event
On October 13, one hundred years after the miracle of the sun, we have the opportunity to answer that call in a special way.
There will be a first-ever candlelight Rosary procession at the Basilica of the National Shrine of the Immaculate Conception. All are invited to come or watch the live broadcast on EWTN TV. His Excellency Donald Cardinal Wuerl will lead the historic candlelight Rosary procession and also lead us in a prayer of entrustment for individuals and families to Our Lady of Fatima's Immaculate Heart.
Eternal Word Network (EWTN) will broadcast live at 7 p.m. ET from, to over 140 nations. Father Mitch Pacwa, EWTN TV and radio personality explains more here. Earlier that day, at 10 a.m. ET, EWTN will broadcast the 15th annual Worldwide Children's Eucharistic Holy Hour from the Basilica. This annual event spiritually unites the children of the world before Jesus in the Blessed Sacrament, making reparation to console Jesus and to pray for their families, countries and world. Fr. Chris Alar, MIC Director of the Association of Marian Helpers of the Immaculate Conception, will preside. Father Alar encourages all Catholic schools to participate in their parishes. You can order children's prayer booklet prayer booklets to pray along.
Two humble ladies in Minnesota are the ones who have organized these amazing events. Connie Schneider, director/president of Children of the Eucharist and Maureen Wong, vice-president, felt something big should happen to mark this 100th anniversary so they started planning and asking for help.
Can you help spread the word? Or help with donations by going here?
"Many people are worried about the state of the world," Schneider said. "This is something everyone can participate in; to light a candle and to entrust families, our country and the world to the care of Our Lady of Fatima." She encouraged everyone to do something. "People can participate in this event or one closer to home," Schneider said. "And if they are not able to attend anything, they can still unite with everyone by lighting a candle from their home and turning on EWTN."