by
Chelsea Zimmerman
on Nov 04, 2013 in
Cloning, Embryo Research & Genetics
,
Contraception & Abortion
,
Disability, Sickness & Suffering
,
Featured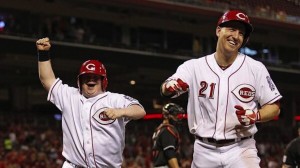 It was one of the most heartwarming moments of the 2013 baseball season. On April 18, after a pep-talk from his "best friend and greatest batboy," Cincinnati Reds third baseman Todd Frazier ripped a two-run homer to center field off John Maine, extending the Reds lead to 11-1 over the Miami Marlins in the sixth (see video here).
What makes it even more poignant is that this beautiful moment might never have happened if Teddy Kremer's parents had listened to the geneticist who told them 30 years ago after Teddy was born that he would never have more than a 40 IQ, possibly might never walk or talk and that they should put him in an institution.
I wish I could say that the world has improved its approach to a Down syndrome diagnosis in the past 30 years. Instead, modern academics have managed to recast "eugenics" as a positive term, distinguishing their vision from past government-mandated eugenics policies.
The emphasis now is on "selective reproduction" and the parents' "choice" to decide what kind of child they want to have. The result has been a search and destroy mission to wipe people with Down syndrome off of the planet through eugenic abortion. And it has taken so much love and joy out of the world.
In the latest episode of BioTalk, Rebecca Taylor and I "raise awareness" about the good news about Down syndrome. 
Not only is life with Ds not as bleak as most parents are told when their child is prenatally diagnosed, but scientists are making significant advancements in the treatment some of the more serious side-effects of the disorder.