by
ACN-USA News
on Dec 10, 2015 in
Featured
,
Those in Need

By Eliane També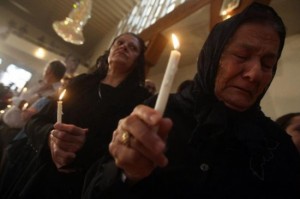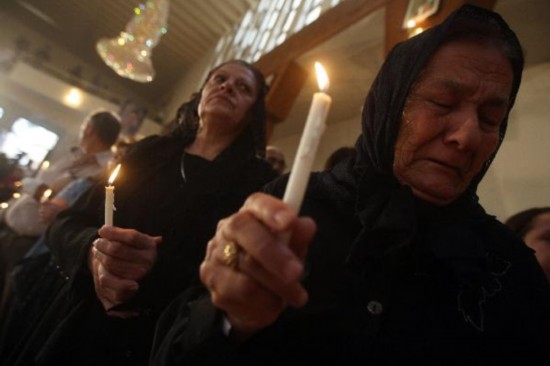 ALEPPO, Syria—War rages on in Syria. Aleppo, the country's major business center—what's left of it—is a city at war, subject to regular bombardments by various factions fighting for dominance. Last year, a mother of two sons, 48-year-old Joumana Jarjour, a Melkite Catholic, was gravely wounded by scrapnel from a rocket that landed and exploded right in front of the family home.
She and her husband Alexan Saba, an out-of-work auto mechanic, were standing on their balcony, waiting for their boys—teenagers 14 and 15-years-old—to get home from school. Joumana almost did not make it.
She was given a couple of days to live, after doctors discovered a large piece of scrapnel inside her body, close to her heart and neck, areas of the body to delicate to perform surgery on. Then it happened. Joumana remembers "fervently praying." "I love life and wanted to have a chance to go back to work to help my husband who lost his job," she said recently; "and I was not ready to let go of my two sons."
She saw "Jesus Christ smile" in a picture hanging before her on the wall, and right then she knew that "He responded to my request and that I would live." Many surgeries later, Joumana is back on her feet.
What's more, this brave mother just enrolled in training program sponsored by the Melkite Archdiocese of Aleppo; she has enrolled in a course for beauticians offered by the Church's "Build to Stay Program."
The brainchild of Archbishop Jean-Clement Jeanbart, the initiative offers local Christians who've lost their jobs during the civil war a chance to pick up the pieces—to up-date their skills, learn a new trade, or get a modest subsidy to relaunch their small business or repair their shops or studios.
"Build to Stay," which the archbishop describes as part of social movement rallying local Christians to a fresh commitment to stay put and rebuild their city and country—is designed to lay the foundation for a future for the local Christians. Its programs are harbingers of a future of self-sufficiency and promise for a better life once, God-willing, the fighting will have come to an end—something some Church leaders believe is more likely now that Russia has joined the fight against Islamic extremists in Syria.
For Joumana, the prospect of a professional career is "part of the promise of the Lord," made that one dark night, when she saw that "beautiful and charming smile."