by
Christine Capolino
on Mar 29, 2012 in
Featured
,
Parenting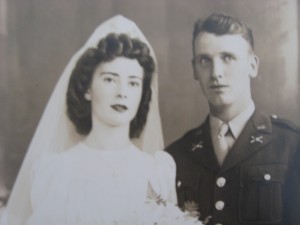 Gently making its way toward the front of the room, is this beautiful parade of humanity. The timelines of their lives, their histories… overlap, envelope, criss-cross, consume.
At times, one who hasn't been seen in Too Long is reached for. Hushed promises to Get Together Soon are whispered. Not empty promises. Life does get in the way… sometimes.
It is Mom's wake, here in my reverie, three years on the journey since that day.  It was wintry. It was brutal and hostile. Sleeting and frigid. But you know this.
When you lose one you love, one who walked with you on life's journey longest and loved you most, you know.
You know the day suits the mood, the very reason we are here. You know it is as if those we love can only be mourned on the most foul and wretched of days  within our climes. You know.
And so I remember:
Perhaps the best place to begin is a lifetime ago. With the richness, the fullness and yet, the oftentime, emptiness.  With Mom's Mam and Da, just off the boat, having left the rich greens, so many hues of green, the craggy coasts, the fog-nestled moors of their homeland, their Eire. Leaving pieces of their hearts as well.
Of her poor, yet rich, early life in lower west side tenements. Of her proud Mam, taking in laundry and designing unparalleled fashions for the uptown shops and her strong, yet soft Da, a stevedore, off to the docks upon ships' arrivals. Horns low, beckoning. And how I wish I had known the people, not simply their stories.
Of a military base in Paso Robles during The War. Of five children, children-in-law, grandchildren, great grandchildren. Of Mom and Dad buying their Dream House in "the country"—a row house in Queens. Small dimensions, big love.
Of taxes, deadlines, monotonous commutes, heart disease, cross country trips, emergency room visits, sacrament preparation, spring cleaning, vacations-that-were-anything-but,  lawn mowing, daily frustrations, drying tears, long walks to nowhere, Christmas tree decorating.
Of  lingering chats. The silences, the knowing. And sometimes, the wrong words said.
Of all the details that fill a life.
Here in the present, awash in the pungent fragrance of gladiolas and attentive funeral directors, are the pictures. There are many. So many that the books fill the tables, the collages line the perimeter of the room. A tangible trail of symbols. Spilling the story of a life well lived and well loved. Of grace filled days.  They conjure memories with the speed and the rush of a car moving down the highway. Trees, telephone wires, houses ablur.
We gather; we glimpse; we relive. We story into the past.
In these memory-laden tomes, there are Christmas mornings, elation and surprise captured on film. There are Adirondack lakeside cabins, Fourth of July dock jumping contests and serene campfire evenings.
There are birthday boys and birthday girls, party hats askew. There are candles poking atop whipped confections.  There is Dad, wielding a 1970s-era enormous camera contraption, flash bulbs huge and blinding. There is Mom, happily corralling little people for birthday fun and games.
In another chronicle of  memories, there is laughter and there are lingering summer suppers in our postage-stamp sized yard. Citronella candles burn to stubs as sun dips below horizon, oh, hours ago. White moonlight fills the sky and hushed, familiar voices mingle. Some in staccato laughs; some in serious debate; all in good nature.  Pitchers, by now empty of libations. Platters once brimming with grilled tidbits.  Lawn chairs haphazardly scattered, fitting friends  into conversations on the patio Dad recently built under spreading maple. Children darting, squealing, firefly catching. Evening, winding down.
We thought these days would always be.
And then, in yet another collection, there are those images from further back.  Some are curled and indistinct.  Black and white and grey. On a pier somewhere on the west coast. Undated. For these need no caption; the details are in the faces.
Dad in Army issue, looking younger than I have ever known him. Ever. Looking determined, and dare I say, fierce. And yet, posing for this very shot, expectant and cautious. A soft heart, a bright mind. But as a youth and deploying again, weary.
Mom, even younger. Looking very Maureen O'Hara, in a lower-west-side-daughter-of-Irish-immigrants-way that only first generation lasses possess, without even knowing. Until perhaps a lifetime later, as scrapbooks are perused and expressions, examined.
As if she just finished the talk. The You-will-come-home-and-we-will-have-a-life talk.  He did. And they did.  And it was some life.
You can almost detect, as you place yourself into this moment,  mournful strains. "Sentimental Journey," plucked out by a makeshift band at battleship's starboard side. A haunting ballad, hand in hand with shipping out.
Into the blue Pacific.
And Mom and Dad, decades from now will be pulled back to this place, to this time, by these clear, distinctive bass notes. Whenever and wherever they are heard.  They told this story always. as if it was the first time. They needed to tell it as much as we needed to hear it. Shreds of their lives? We'll take them any way we can get them. We'll take them once or a hundred times.
The Greatest Generation, indeed.
Hundreds of lives touched, held within these pages, in this room, where we celebrate Mom's life and where we celebrate all these lives, these souls. Some walked side by side on life's journey. Some touched fleetingly. All important.
And now, my children have no earthly grandparents; all of them, "our special saints," my youngest states. When one of my children becomes wistful, wishing "Grandpa could be here with us," as when we toured the World War II Memorial in DC, the other comforts, " But don't you know, he IS here with us."
We take a picture of our boys sitting side by side on the Memorial ridges engraved "Leyte Gulf" and "Manila."  This is where their grandfather was stationed two generations ago, before most of the people respectfully and wistfully wandering the Memorial, were even born. Without a doubt, they  truly know, that they will meet again in Heaven and share Eternity.
So what now?
Healing happens. It happens at our lowest and most broken. We are led by each other, by memories of the past, by promises of the future,  to realize: We will emerge. Eventually. Our brokenness made whole by our Lord's beautiful gift of  hope. Enveloped within our Catholic doctrine of Eternal Life, we embrace an end which is truly, only the beginning.
My youngest  made an offhanded comment recently while perusing several family scrapbooks, noticing  the many faces… smiling, solemn, youthful, elderly…who have  gone to their Eternal Reward, "We'll meet them all again. All the people we love now, and will love but haven't even met yet, when we  get there."