by
Cristina T
on Jul 25, 2014 in
Catechesis
,
Featured
,
Learn & Live the Faith
,
The Shepherd's Voice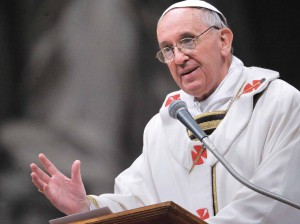 I do believe, help my unbelief! (Mark 9:24) Trembling and filled with anticipation I repeated this to myself as I walked down the aisle to receive, for the first time, the Eucharist. Pope Francis speaks to those gathered to receive his catechesis about the Eucharist (February 5, 2014) that
"From this Sacrament of love, in fact, flows every authentic journey of faith, of communion and of witness".
I am a convert (2012) to the faith and even before my decision to join the Church, I knew unequivocally, that the Eucharist could touch me in a way that nothing else could. The Eucharist alone had the ability to transform and reshape the soul within towards His perfect love.
After months of intense one-on-one catechetical preparation I knew exactly what I would receive on Easter Vigil and every time I walked toward the altar. The urgency for me to be a part of the source and summit of our Catholic faith was such an incredible gift that I wanted to live at this summit every day, during and outside of mass.
In his audience, Pope Francis explains:
"… the Lord Jesus, by becoming bread broken for us, pours upon us all of his mercy and his love, so as to renew our hearts, our lives and our way of relating with him and with the brethren."
It is in the relating with our brethren that we break ourselves open for them, as He did for us with the disciples at the last Supper and on the cross at his death.   As Scott Hahn said "Our life in Christ is our sharing, our participation, our communion in God's life"
So often when entering Eucharistic Adoration, He is with one, maybe two people. We have perpetual adoration and there is a group that assures He is accompanied by at least two people. How often should we give the bare minimum to He that sacrificed everything for us? Could we ask a friend, bring a child, or even a co-worker over lunch to join Him instead?
In the Apostolic Letter, Mane Nobiscum Dominae, Pope Saint John Paul II writes:
"Let us take the time to kneel before Jesus present in the Eucharist, in order to make reparation by our faith and love for the acts of carelessness and neglect, and even the insults which our Saviour must endure in many parts of the world."
When arriving at a dinner party set at 7 in the evening, would you be a very good guest to arrive on time maybe even fashionably late? Or do you bring a gift with you as a gesture of thanksgiving, and arrive a little early to enjoy the company of the host, and others that have been invited? We should also do this with the mass where the Eucharistic meal is shared. We could arrive early to mass and spend time with our Lord bringing the gift of our brokenness, and need to be with Him again and always. So often after we receive Communion, the sound of a door slamming is heard in the distance within the church. How sad it must make Our Lord to see and hear how His love is taken for granted. The mass, the Eucharist is not a drive thru meal. The table has been lovingly prepared. He finally has us before Him, and we leave before the final blessing because we don't want to get stuck in the parking lot, and He watches us go.
The sight of our brothers and sisters kneeling in the pews are guests, also invited to this feast. This could be the only time your brothers and sisters in Christ pray all week, "For where two or three are gathered in my name, there am I in the midst of them." (Matthew 18:20) support them, lift them up and pray alongside them. Better yet, pray for them.
Let's all strive to be better guests at this most holy sacrifice, this ultimate expression of love, mercy and grace.
"Be what you see; receive what you are." (St. Augustine, Sermon 272)
*Editors Note:  This was from the audience of February 5, 2014*