by
Tami Schuelke
on Oct 11, 2014 in
Catechesis
,
Featured
,
The Shepherd's Voice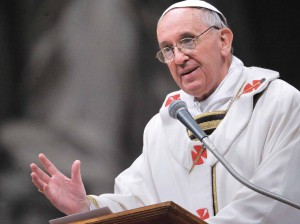 Pope Francis called all Christians to unity during His General Audience Catechesis. He challenged us not to remain resigned to this division, but to take the step towards reconciliation and full communion. "Holy Father, keep them in thy name which thou has given me, that they be one, even as we are one," (John 17:11)
We live in a world filled with so much division, hate, and anger. There is an evil fueled by a desire to erase God from families, marriages, schools, and we go on as though nothing is wrong. We have become lukewarm; we want to remain in our "comfort zone," and Jesus is shoved aside as families fall apart, marriages are destroyed, abortion is rampant, no one cares about the family.
We stop praying and going to church because we think God doesn't care. But it is our pride that has shoved Him aside.
"Every attack against the unity of faith is an attack against Christ Himself" -St. John Paul II
What is the cause of the division we see is the desire to do thing's our own way. This causes a weakness in our souls because we can only see what we want to see. We fail to see the person that is in need sitting next to us. We refuse to listen to another point of view other than ours. This individualism is the enemy of union.
When we begin to live outside of God's will, we say "Non Servium," I will not serve. In refusing to serve our fellow man, we say no to Jesus. This, then, is where our prayer lives weaken and slowly diminish. This is when we must turn to the merciful heart of Jesus, and ask Him to teach us how to love the way He loved.
We also must stand with the Blessed Mother at the foot of the cross, for the devil flees from the cross. Christ wants us to remain in union with the church, to help each other as brothers and sisters in Christ on our journey to Heaven.
"Finally, you are one with Jesus as the body is one with the head. He must be your breathe, heart, love, life, your all. These great gifts in the follower of Christ originate from baptism. They are increased and strengthened through Confirmation. Through the Holy Eucharist they are brought to perfection." -St. John Eudes