by
Melanie Jean Juneau
on Oct 26, 2015 in
Catechesis
,
Featured
,
Learn & Live the Faith
,
The Catholic Family
,
The Shepherd's Voice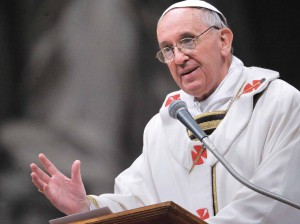 Pope Francis's Wednesday General Audience, on October 21, focused on the promise of love and fidelity made between husbands and wives.  The resulting fidelity in turn sets the couple and their family free. A couple's fidelity to their promise to love is a blessing for the whole world because "no other school can teach the truth of love if the family does not do it."
Before addressing fidelity, the pope reminded families of their fundamental call to receptivity, "A family that is shut-in on itself is a contradiction, a mortification of the promise that made it be born and that makes it live."
In our culture, many men and women seem incapable of a long term commitment. Divorce rates are soaring because there is a modern mentality which says, " I do whatever I want and only what I must". Pope Benedict XVI articulated a false, modern concept which believes that Catholicism is a collection of prohibitions which burden people. Pope Benedict XVI clearly points out the opposite is true because Catholicism is a positive option. "We've heard so much about what is not allowed that now it's time to say: we have a positive idea to offer." Traditional marriage is not a Catholic invention: "I believe we need to see and reflect on the fact that it's not a Catholic invention that man and woman are made for each other, so that humanity can go on living: all cultures know this." (2006 interview)
Pope Francis teaches fidelity frees us to be our best because "our freedom is shaped and sustained by our fidelity to the choices and commitments we make throughout life…..fidelity to our promises is a supreme expression of our dignity as human beings".
"Love generates union without taking away freedom. Love is free; the promise of the family is free. Without freedom, there is no friendship; without freedom, there is no love; without freedom, there is no marriage. Therefore, freedom and fidelity are not opposed to one another, what is more, they support one another, both in personal as well as in social relations." The strength of fidelity is a miracle. It never ends but continually delights and surprises us. The honoring of the word given cannot be bought and sold, forced nor can it be lived out without sacrifice.
Rather than bemoaning the rise of marital infidelity, let us applaud the millions of men and women, hidden from the public eye, who regenerate their family's foundation through their faithfulness and love, thereby strengthening the rest of society. "There is no greater school to teach us such fidelity than marriage and the family, which are, in God's plan, a blessing for our world."
Saint Paul affirms that in the family union an eternal truth is revealed about the mysterious union of the Lord and the Church. Our fidelity to the promise is always entrusted to the grace and mercy of God. The love for the human family, in good and bad fortune, is a point of honor for the Church.
Pope Francis closed his audience by asking for prayer: " In these days of the Synod on the Family, let us pray that the Church will uphold and strengthen the promise of the family, with creativity and with unfailing trust in that faithful love by which the Lord fulfils his every promise."