by
Megan Therese
on Oct 17, 2014 in
Catechesis
,
Featured
,
Learn & Live the Faith
,
The Shepherd's Voice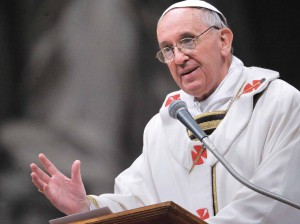 Pope Francis' General audience this past Wednesday was about hope. Like many other virtues, hope can be twisted into many different definitions. Pope Francis clarified, "Christian hope is not simply a desire a wish: for a Christian, hope is expectation, fervent, passionate expectation for the final definitive fulfillment of a mystery, the mystery of God's love, in which we are reborn and in which we already live."
The Catechism of the Catholic Church states, "Hope is the confident expectation of divine blessing and the beatific vision of God." Hope is a theological virtue given to us by God and infused in us at Baptism. Hope is a virtue that can be hard to grasp, and a virtue that is desperately missing in our day and age.
If everyone had that confidence of God's blessing and the beatific vision there would not be such evil and hate in this world. How could there be if we lived each day in hope of the Beatific Vision, seeing God face to face? There would be absolutely nothing but joy.
There are certain things in this life, however, that can take us away from hope and lead us to despair. There so many trials and sufferings in people's lives where they doubt God's existence and His fatherly love that they are unable to have that confidence and the beatific vision; so hope disappears. But we must have hope!
No matter how dark it becomes we must believe it is part of the journey to the Beatific Vision. Never doubt God's blessings during the difficult times because they are always there, even if you don't see them right away.
The greatest instance of hope is, of course, the Resurrection. Good Friday was such a dark day when the One who would save us all died on the cross.
Mary is a perfect example of hope in, what would seem, a hopeless situation. Not only did her Son die that day but also her God. She stood beneath that cross the entire time and then held His lifeless body in her arms. She carefully studied and cleaned the deep and painful wounds that covered her son's body, and it is hard to imagine how much her heart was breaking, but she never lost hope.
She had hope in that moment that this was not the end. She never lost that confidence of the Beatific Vision. Three days later, Jesus rose from the dead and crushed everyone's doubt and despair and renewed hope.
Hope can indeed be a hard thing to grasp sometimes, but it is something we should strive for daily. Regularly receive the sacraments that Jesus gave us to continually renew that hope, and get in front of the Blessed Sacrament when despair starts to creep in. Pray to Mary for assistance and as Pope Francis says, "She is the Mother of hope." True hope is contagious, it is not something we just believe; it is something we live.
"One who has hope lives differently." –Pope Benedict XVI