by
Mark Davis Pickup
on Dec 25, 2014 in
Disability, Sickness & Suffering
,
Featured
,
Live in Christ
,
MyChurchParish.com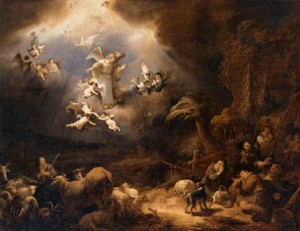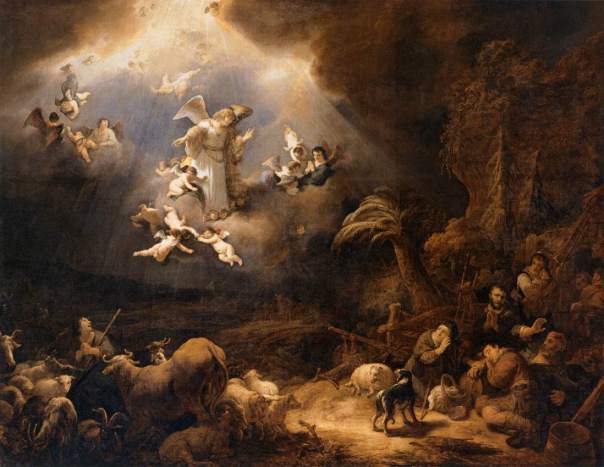 "The Word became flesh" (John 1.14) is a central tenet of Christian truth. It's what Christmas is about ? not some little fat man in a red suit. Jesus is the Word that became flesh. The Incarnation: God made man.  It is a unique and singular historical event so significant that the universe rejoiced. Saint Luke's dramatic account of the birth of Christ tells us that a multitude of heavenly beings cried out praises to God.
"Now there were shepherds in that region living in the fields and keeping the night watch over their flock. The angel of the Lord appeared to them and the glory of the Lord of the Lord shone around them, and they were struck with great fear. The angel said to them, "Do not be afraid; for behold, I proclaim to you good news of great joy that will be for all people. For today in the city of David a savior has been born for you who is Messiah and Lord…And suddenly there was a multitude of the heavenly host with the angel, praising God and saying: 'Glory to God in the highest and on earth peace to those on whom his favor rests.'" (Luke 2.8-11, & 13-14)
Imagine! A choir of heavenly beings, radiating the glory of God, was heralding the long awaited Messiah of mankind.  Although this actual event occurred in antiquity, the reality of Jesus Christ's first coming can not be overlooked by humanity in the 21st Century.
For more than two thousand years, Jesus has been the subject of the Western world's finest literature, art, music, and the source of its religion and mores.  The divine love that lies at the root in the Incarnation has been the foundation for regeneration of human hearts experienced by millions of people throughout the ages.  Regenerate hearts know the "savior" who "is Messiah and Lord."  That is the promise of Christmas for those who believe and accept it.
The road of faith leads from the stable of Bethlehem to the Cross of Calvary. The divine Word that became flesh is Jesus Christ. His birth was heralded by the praise of angels; his death was met with human contempt. The baby who shivered in the cold night air of Bethlehem was tenderly wrapped in swaddling clothes by his Mother. Later he shuddered in agony, as a man, and was stripped naked then whipped.
In his book Lift Up Your Heart, Bishop Fulton Sheen wrote:
"The Divine Word, when he became Flesh, suffered crises such as suffering, hunger, thirst, contempt, the Cross ? all as experienced facts: something of the same kind faces the mind that sees the Truth, and shrinks back. Many souls fear to make Truth personal, intimate, or incarnate, because they know it may involve a Golgotha."
Jesus said that he is the truth (John 14.6) and he also said that if we know the truth, it will set us free. The truth may set us free but it also costs us something. The truth may require that we die to ourselves, our egos and our selfish desires. The truth may demand that our prejudices or sinful habits be put to death.
Nature abhors a vacuum and so does the law of human nature. A willingness to internalize Jesus as truth is courageous challenge. The truth invites us to forcibly remove our egos from the central place of internal worship and put Christ in its place.  Make no mistake about it: The courageous challenge of internalizing Jesus as truth will take people and radically transform them from the inside out.
The old self must die so a new self can emerge. That's a blessing of living with a degenerative disability.  The man I used to be is gone. My flesh is dying bit by bit. Only my left arm remains unaffected by multiple sclerosis. It's hard to keep the fire of ego blazing when I must rely upon others for simple daily tasks. Outwardly I am wasting away, yet inwardly I am being renewed, but only with Christ as the focal point of my life.
I believe this is what Saint Paul may have been referring to when he wrote:
"Everything indeed is for you, so that the grace bestowed in abundance on more and more people may cause the thanksgiving to overflow for the glory of God. Therefore, we are not discouraged; rather, although our outer self is wasting away, our inner self is being renewed day by day. For this momentary light affliction is producing for us an eternal weight of glory beyond all comparison, as we look not to what is seen but to what is unseen; for what is seen is transitory, but what is unseen is eternal. For we know that if our earthly dwelling, a tent, should be destroyed, we have a building from God, a dwelling not made with hands, eternal in heaven." (2 Corinthians 4.15-18 & 5.1)
In this passage we see the transitory nature of suffering. My life, and yours, will outlast affliction and dying. Life is eternal.
After reading this passage of Scripture, I took my electric wheelchair out into the night to contemplate Saint Paul's words. Snow was falling as I traveled along the streets of my town.  The words of the angel to the lowly shepherds came to mind: "Do not be afraid; for behold, I proclaim to you good news of great joy that will be for all people."  I stopped by chair and looked up into flurry of snow falling to the ground and was overcome by something akin to "great joy."
Merry Christmas to all, and to all a good night.