by
Hilary White
on Jun 26, 2013 in
Euthanasia & Assisted Suicide
,
Featured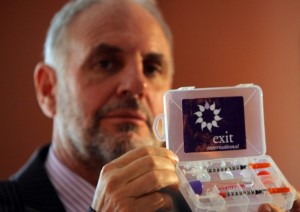 Australia's leading euthanasia advocate, Dr. Philip Nitschke, was detained on Sunday night at London's Gatwick Airport as he was attempting to enter the UK. He was held for over two hours overnight but eventually allowed to proceed.
Dr. Nitschke has arrived to conduct his European "Nitro & Nembutal" workshops and speaking tour teaching people how to commit suicide by obtaining and administering lethal drugs.
Nitschke is founder and director of the pro-euthanasia group Exit International and briefly succeeded in changing the law in Australia's Northern Territory, where he assisted the suicides of four people. He claims to be the first doctor in the world to have administered a voluntary lethal injection.
Customs and Border Protection Officers stopped Nitschke, calling him by name out of a line-up at the airport. He was searched and questioned and temporarily had items confiscated – including "a gas flow regulator for the new Max Dog Nitrogen method" – which he said had been intended for display at a "planned voluntary euthanasia workshop."
The display items were returned.
He claims to have developed a method of using nitrogen for a "reliable, peaceful, legal, and totally undetectable death at the time of their choosing." He will also be promoting the use of massive doses of the veterinary sleeping drug Nembutal to induce death by respiratory failure.
The London workshop is scheduled to follow the public lecture and is "open all those who are over 50 years and of sound mind and/or those suffering from serious illness." Nitschke's workshops inform participants on how to source and use legal and illegal drugs for euthanasia.
Nitschke issued a media release saying that the officials had decided to allow him to proceed into the UK, where his first speaking engagement will go forward on Tuesday evening. Nitschke said that there was a "growing need to provide people with the means for a reliable and peaceful death given the ongoing failure of the legislative process to enact laws that reflect people's wishes."
Although he has been campaigning for decades, since the death of Dr. Jack Kevorkian two years ago, Nitschke has assumed the role of the world's busiest and highest profile euthanasia campaigner, traveling around the globe offering clear instructions on how to commit suicide.
Dr. Peter Saunders of the Christian Medical Fellowship has asked why he was allowed to continue into the country. Nitschke is "an extremist and self-publicist whose presence in the UK puts the lives of vulnerable elderly, depressed and disabled people at grave risk," Dr. Saunders said. In a letter, he had alerted the Home Secretary, Theresa May, that Nitschke was coming to the UK to promote euthanasia.
Saunders cited a news report that said Australian health authorities have recorded at least 51 Australians, 14 of whom were in their 20s and 30s, who have died after overdosing on Nembutal. "Of the 38 cases fully investigated by coroners, only 11 people were known to have suffered chronic physical pain or a terminal illness before their deaths," The Age reported.
Assisting with a suicide, counseling suicide, or administering euthanasia remain criminal acts under British law, but the nation's office of prosecutions has announced that as long as perpetrators are acting out of "compassion" and not for personal gain, offenses will be ignored.
Saunders commented, "With the growing elderly population, failure of the care system and worsening economic situation a growing number of frail, disabled, ill and depressed people in Britain will be feeling under even greater pressure to end their lives, either for fear that they will not cope, or so as to be less of a burden to relatives. They deserve better protection from suicide predators like Nitschke than they are currently getting."
Dr. Saunders also alerted police to Nitschke's plans, lodging a complaint in writing of "a potential breach of the Suicide Act 1961."
In a letter to Frank Dobson MP, in whose constituency Nitschke was scheduled to be speaking and giving workshops, Dr. Saunders wrote that the "visit is clearly directed at encouraging or assisting suicide with the intent that another person will commit or attempt to commit suicide by use of drugs and other means in breach of section 2 (and 2A) of the Act. Dr. Nitschke intends to flout the criminal law."
Dr. Nitschke has been turned away from venues in the past. In 2011 a speaking engagement was cancelled in Dublin after complaints were made to police that he was encouraging suicide, a criminal act in the Republic of Ireland. In 2010 in the same town, Nitschke told an audience of elderly people not to wait until "it's too late" but to begin to "plan ahead" to commit suicide.