by
David Gray
on Feb 25, 2014 in
Apologetics
,
Featured
,
MyChurchParish.com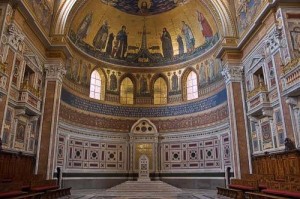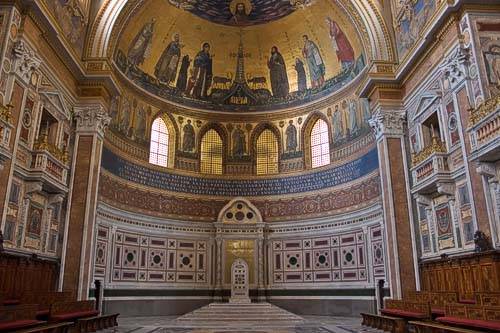 Eve knew very well what God had commanded her and Adam, but the text tells us that she had found the tree of knowledge of good and evil good to be pleasing to the eyes and desirable for gaining wisdom (Cf. Gen 3:6). It doesn't take a whole lot for us to find justification to do what we know we ought not to be doing. It is only after we get confronted or caught and realize that our self-justification isn't good enough to satisfy others do we then begin to find more clever excuses our behavior. For Adam it was just a matter of pointing the finger away from himself. "The woman whom you put here with me – she gave me fruit from the tree, so I ate it" (Gn. 3:12).
Of the three major attacks against the Catholic Church, Arianism, the so-called Great Schism, and Protestantism, only Arianism can be said to have been more about theological differences than political ambitions. Whether it be the Orthodox's claimed issues with the Filioque, Papal primacy, and unleavened bread, or Martin Luther's three sola's (faith, grace, and scripture), these have been nothing more than merely pretentious excuses that people have devised to justify themselves for following the self-interested actions taken by dead men centuries ago.
Reasonable Orthodox Christians and Protestants will admit that politics was the real engine that drove their theology of division. Yet, they will also admit that because these smoke and mirror theological issues have remained a part of the vernacular of Christian division for so long, they have now become real to many of the faithful.
To help resolve these issues on a high level, a number of joint declarations, mutual agreements, and commissions over the past few decades have gone a long way to help us heal and grow in understanding about those excuses that should no longer separate us. The hope is that these high level ecumenical dialogues would trickle down to the laity.
After the so-called 'reformers' rejected the hierarchical Catholic Church, they sought out theological justification for their innovation of a Church that is not in union with the only Church that Christ established through His Apostles. The best that they could come up with is this unscriptural notion of an invisible Church, which I dealt with in my article 'Refuting the Myth of the "Invisible Church"'.
Now, back to Eve's justification; there are any number of excuses that we can come up with to belong to some Church other than the one that we read about Christ Jesus establishing in Matthew 16:13-19 on Simon Peter. Indeed, there are plenty of churches that are pleasing to the eye and desirable for gaining wisdom. Yet, if the degree to which a church is more aesthetically pleasing or friendly is a justifiable reason to offend God by rejecting His Church, then either God is indifferent towards our salvation or we are.
If Jesus was tortured and died on the Cross so that the doors of His Church would be opened to all; if the doors of that Church were opened to all by the Apostles after the first New Covenant Pentecost; if thousands of newly Baptized disciples of Christ entered through the doors of that Church at that time and for the next nearly two thousand years, then why would anyone want to belong to a church that Jesus didn't die on the Cross for its doors to be opened? Why would anyone want to belong to a church whose doors were not opened by the Apostles themselves? How can anyone rightly justify belonging to a Church that cannot trace its lineage back to those who were first Baptized by the Apostles?
Back to Eve's justification again. The consequence of disobedience is that we become less than what God has always desired us to be. In terms of being disobedient to God's desire for us to belong to His Church, is that we have fewer means to grow in holiness; fewer doors and opportunities to grace. In particular, outside of the Catholic Church we find fewer Sacraments, fewer books of the Bible, no priesthood, a less than full understanding of divine relation, and no communion with the real Body and Blood of Christ Jesus.
The good news for those who have found theological justifications to not belong to the Catholic Church is that God didn't established a Church to agree with your theology. How awesome is it that God didn't want you to lean on your own understanding or be puffed up and proud to know better His Church? You're off the hook! You don't have to figure everything out in the couple handful of decades you have to live.
God has given you a Church that is the pillar and foundation of truth (Cf. 1 Tim. 3:15). He even made it extremely easy for you to find that Church that He established. Just find Peter (Cf. Mt. 16:18)!
The good news for those who have found sensual reasons to not belong to the Catholic Church is that God didn't command you to be entertained; He called you to be faithful and obedient.
It would be great if you could find a Catholic Church that makes you feel happy and warm all the time, but isn't it awesome to have a God that comes to us at every Mass as the Holy Eucharist, regardless of how bad the preaching and singing is? If every Mass is good enough for Jesus, then surely every Mass is good enough for us.
Therefore, let us not be like Eve and allow self-pride to lead us into justifying our way into disobedience to God. Go and find the true Church of Christ and discover the household of God that He created just for you, because He loves you that much! Do not reject this gift of His one day longer.