by
Trent Beattie
on Jul 01, 2011 in
Art & Architecture
,
Featured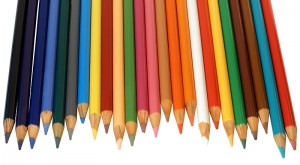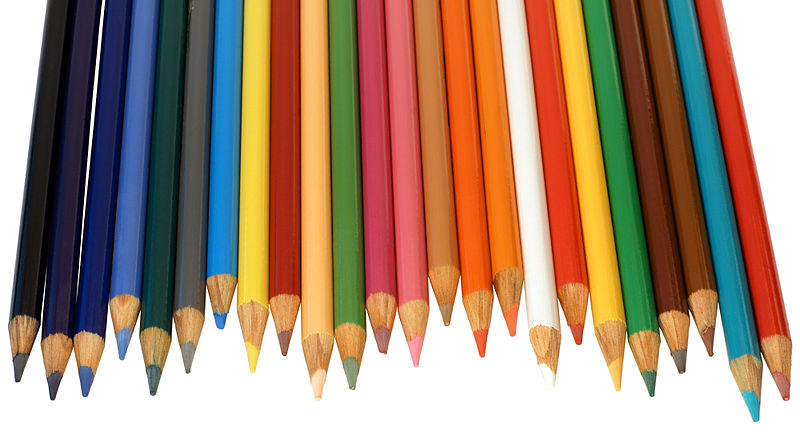 Despite what other people think, Tracy Christianson insists that she is not a painter. 
It's not that she refuses to acknowledge her God-given talent, but that her portraits are pencil drawings, not paintings.
"People are usually surprised to find out that my portraits are drawn with [Prismacolor brand] colored pencils," says the Seattle artist. "Most people think they are either painted or pastels. I like the pencils because they allow me to get very detailed. I can blend the colors very well, and this gives them more of a smooth, painted look."
Anita Morgan, owner of Alleluia Catholic Store, with two locations in the greater Seattle area, sees firsthand the surprise of customers after learning they are not buying paintings. She says the portraits "look like real paintings instead of drawings. Our customers are amazed when we tell them that they're color-pencil drawings."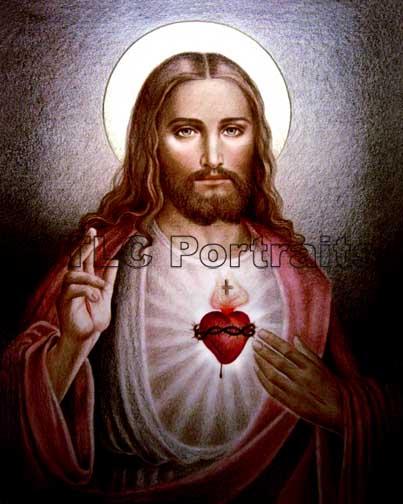 Christianson's eye-catching portraits have been spotted throughout the Seattle area, not only in Catholic gift stores, but also in rectories, at parish offices and on bulletin covers. Her portraits are steadily becoming more visible throughout the country as well. This is due largely to her website, TLCPortraits.com, appearances in the Ignatius Press catalog, and on Tom Curran's book covers. 
Curran's 2009 release, The Mass: Four Encounters With Jesus That Will Change Your Life, features a cover portrait of Jesus, allowing the reader to look directly into the piercing eyes of Our Lord. Says Curran: "I was struck by Tracy's drawing of Jesus.  When I wrote [the book], I was thrilled to be able to prominently display her striking portrait on the cover. The look in Jesus' eyes grabs you." 
Curran appreciated the portrait of Jesus so much that he also used it on his second book, released this year, entitled Confession: Five Sentences That Will Heal Your Life.  Many of his readers have also commented on the striking nature of the portrait.
Saintly Inspiration
Christianson has always loved to draw people and has done so for as long as she can remember. Since 2003, she has been drawing portraits of Jesus and the saints, which are her favorite subjects. "The list of saints I want to draw is so long," she says. "I think I started out by drawing my personal favorite saints (Joseph, Thérèse and Dymphna) first. Now, I listen to what people want and sometimes just feel inspired to draw a particular saint."
She does not rely on her natural talent alone in drawing. "I pray to each saint I draw for inspiration and help," she notes. "Sometimes, I have no problem with someone I am drawing and can complete the portrait in two or three days. But sometimes I really struggle with getting what I want and can work on it for weeks. These take more prayer to get through."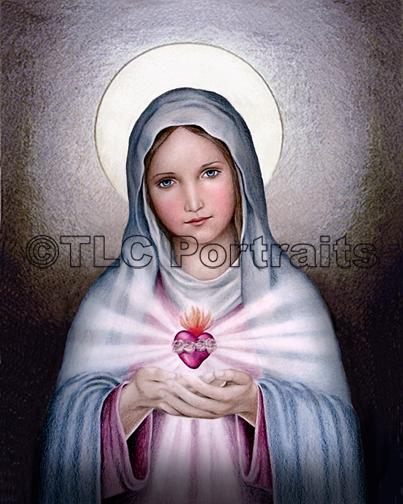 The toughest subject to draw? "The toughest one to draw always is the Blessed Virgin," she says. "I can never ever make her beautiful enough and always struggle — and am usually disappointed with the results."
Customers have not been disappointed with her Immaculate Heart of Mary portrait. It is a close second in popularity to her Sacred Heart of Jesus. In fact, Ignatius Press carried the portrait in its catalog for a few years starting in 2004.
Christianson is a member of North American Martyrs Parish, a traditional Latin Mass community in Seattle overseen by the Priestly Fraternity of Saint Peter (FSSP). She joined the parish shortly after it was formed in September 2008 because of her great love of the traditional Latin liturgy.  "The beauty of the traditional Mass is so appealing to me," she says. 
She still maintains a presence at her former parish of St. Mark, located just north of Seattle. Her depiction of St. Mark, which includes his customary symbol of a winged lion, is featured on the cover of the parish bulletin, and four other portraits (two of Jesus, one of Mary and one of St. Francis of Assisi) are displayed in the parish rectory. 
St. Mark's parishioner Beverly Ogle appreciates Christianson's presence in the parish and is fond of the portrait of St. Mark because "it depicts him as a holy person, the writer of one of the four Gospels, and the portrait is special for us, as it can only be used for the cover of our bulletin." 
Ogle also extended blanket approval for the other portraits: "I like all of Tracy's art. Her portraits of the saints are beautiful and very realistic. I like the softness of many of them. In looking at her portraits of the saints, you can see God's grace in each face, showing a very holy person, with God's love showing forth. I would think that this is not easy to portray."
Sharing Faith Through Art
Christianson works diligently at her craft because she loves it. "I have several easels set up and do at least some drawing every day," she says. "I usually am working on several different portraits at the same time. It's good to walk away from your work so that when you come back you look at it with new eyes." 
She creates the portraits, but she has help with the production and marketing. "My sister (Dixie Foster) takes all the orders and ships them," Christianson says. "She does all the framing, makes all the plaques and crucifixes. She basically does everything but draw the portrait."
In fact, it was her sister who thought of starting the business in the first place. Foster says, "I love her work and the realism of the portraits. I think her Sacred Heart and Immaculate Heart are the most beautiful I have seen and thought they should be made available for everyone. There isn't a whole lot to choose from out there. You see the same images on Christmas cards every year, and I think people are always looking for something new and different."
Christianson is thankful for her sister's contributions, but is most thankful for the source of her talent: God. She explains her gratitude in a simple prayer: "Thank you, Lord, for the gift of drawing and giving me such an enjoyable way to use it."
[This article was originally published in the National Catholic Register and is used by permission.]