by
Claire Chretien
on Nov 09, 2016 in
Featured
,
Government & Politics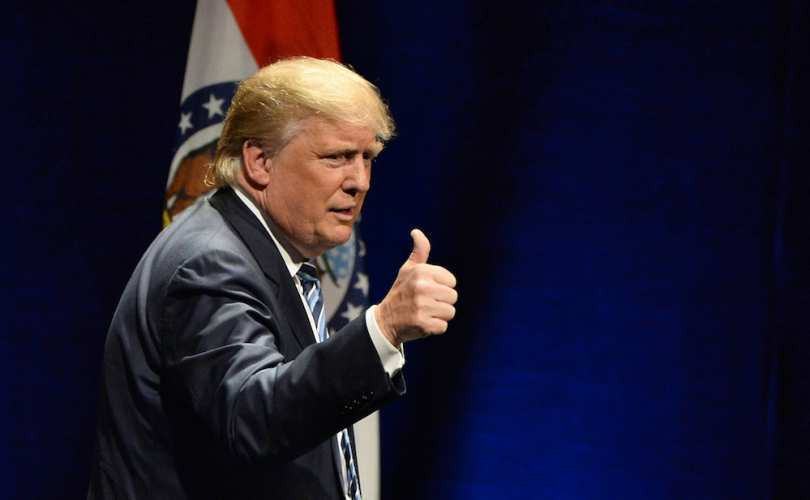 In a stunning victory, Donald Trump has won over 270 electoral votes, beating pro-abortion Hillary Clinton and becoming the 45th president of the United States. Trump's victory became obvious as he won the key states of Ohio, Florida, and Iowa, and now Pennsylvania. He continues to lead in Michigan and Arizona.
The Associated Press called the election at 2:31 a.m. and Fox News did at 2:40 a.m.
Clinton didn't make a speech to her supporters very early Wednesday morning, instead sending her campaign chair, John Podesta, to address them. He refused to concede the race, indicating the campaign would say more in the morning.
At 2:39 a.m., CNN reported that Clinton conceded in a phone call to Trump.
Trump, whose unconventional campaign as an outsider took the media on a rollercoaster, will be the first U.S. president to have not previously held office or served in the military.
He won more states than Mitt Romeny and John McCain did. Many polls indicate Trump won more evangelical voters than Romney, McCain, or George W. Bush.
Trump will likely appoint multiple Supreme Court justices and will be responsible for appointing federal judges, a Secretary of Health and Human Services, Secretary of Education, and Surgeon General. He will be responsible for thousands of other appointments and federal employees with the power to shape American culture and public policy for generations to come.
Trump's candidacy has troubled many pro-life and pro-family advocates, and many refused to get behind his candidacy, but the majority came around to supporting him in order to prevent Clinton's election.
Trump made a series of pro-life pledges that sharply contrasted Clinton's support of abortion on demand: he promised to sign the Pain Capable Unborn Child Protection Act, defund Planned Parenthood, and appoint Supreme Court judges like the late Justice Antonin Scalia. He also said he would make the Hyde Amendment permanent law so that taxpayers would not be forced to fund abortions.
Trump also appointed many strong social conservatives to leadership roles in his campaign, such as Kellyanne Conway, a pro-life pollster who he appointed as his campaign manager. His Catholic Advisory Board was chaired by Joseph Cella, the founder of the National Catholic Prayer Breakfast. Its members included leaders such as Senator Rick Santorum, Father Frank Pavone of Priests for Life, and C-FAM's Austin Ruse.
Concerns about Trump
Some of social conservatives' biggest concerns about Trump have related to his past pro-abortion views, the fact that he is currently in his third marriage, and lewd comments he made about groping women. He has also admitted to having multiple affairs.
In April, Trump called for liberalizing the GOP's abortion stance. However, the position the party ended up settling on at its convention is its most pro-life one yet.
In the late 1990s, Trump supported late-term abortion.
"I'm very pro-choice," he said. "I hate the concept of abortion. I hate it. I hate everything it stands for. I cringe when I listen to people debating the subject. But you still–I just believe in choice…I am pro-choice in every respect" and would not support banning partial-birth abortion.
Many social conservatives were also horrified at Trump's dismissal of crude, explicit comments he made about grabbing women, and his failure to offer a clear apology for them. The comments were "locker room banter," he said.
Responding to an accusation of sexual assault during the campaign, Trump insulted the woman's appearance, saying, "she would not be my first choice."
How Trump 'evolved' on life and the Supreme Court
Trump backtracked his original 1999 comments supporting partial-birth abortion in 2000, when he wrote, "When Tim Russert asked me on Meet the Press if I would ban partial-birth abortion if I were president, my pro-choice instincts led me to say no. After the show, I consulted two doctors I respect and, upon learning more about this procedure, I have concluded that I would indeed support a ban."
He told EWTN's Raymond Arroyo last month that knowing a couple who wanted to abort their child but ultimately didn't was one of the factors in his switch from pro-abortion to pro-life.
"One wanted to abort and the other said we can't do that, we're not going to do that," he said. "Anyway, they had the baby — it was a long time ago — and the baby is such a magnificent person, who I know. A magnificent person."
In January, before he secured the GOP nomination, Trump wrote, "Public funding of abortion providers is an insult to people of conscience."
As his general election campaign gathered steam, Trump became more vocal about his pro-life views and attacked Clinton for her abortion extremism.
"Well, I think it's terrible," Trump said of Clinton's late-term abortion support during the final presidential debate. "If you go with what Hillary is saying, in the ninth month, you can take the baby and rip the baby out of the womb of the mother just prior to the birth of the baby. Now, you can say that that's okay, and Hillary can say that that's okay, but it's not okay with me because based on what she's saying and based on where she's going and where she's been, you can take the baby and rip the baby out of the womb in the ninth month on the final day, and that's not acceptable."
During the final debate, Trump also weighed in on what his potential Supreme Court justice nominees would do.
"If we put another two or perhaps three justices on, that's really what's going to be–that will happen," Trump said of the Supreme Court overturning Roe v. Wade. "That'll happen automatically in my opinion because I'm putting pro-life justices on the court. I will say this, it will go back to the states, and the states will then make a determination."
Trump said early in his campaign that his pro-abortion sister would make a "phenomenal" judge. However, he subsequently released a list of people he would consider nominating to the Supreme Court. Overall, those on the list have strong records on life and family. He also repeatedly promised that they would be the same types of judges as Scalia.
"I feel that the justices that I am going to appoint — and I've named 20 of them — the justices that I'm going to appoint will be pro-life, they will have a conservative bent, they will be protecting the Second Amendment, they are great scholars in all cases and they're people of tremendous respect," Trump said during his final debate with Clinton. "They will interpret the Constitution the way the Founders wanted it interpreted."
"I will appoint Justices to the Supreme Court who will strictly interpret the Constitution and not legislate from the bench, like Justice Clarence Thomas and the late and beloved great Catholic thinker and jurist, Justice Antonin Scalia," Trump wrote in a letter to Catholics.
Mixed messages on homosexuality, transgenderism
Trump's comments on marriage and human sexuality have been less edifying to social conservatives than his comments on abortion.
"People go, they use the bathroom that they feel is appropriate," and the state should have just "left it the way it is," he said of North Carolina's bathroom privacy law. The law prevents men from accessing women's restrooms and vice versa.
He then walked back those comments, saying the issue should be decided at the state and local level.
Trump became the first presidential candidate from either party in history to use the words "LGBTQ community" in his nomination acceptance speech.
His official campaign website sold "LGBTQ for Trump" shirts and he held up an "upside down" gay rights rainbow flag at a campaign rally.
Trump promised to advance "equality" for homosexuals but also said marriage should ultimately be a states' rights issue.
He said it would be his "preference" that the Supreme Court justices he nominates overturn Obergefell v. Hodges, the decision redefining marriage, but would not promise to ensure they would overturn it.
"They've got to be great judges," he said. "They've got to be conservative judges. We're going to see how they stand depending on what their views are. But that would be my preference. I would prefer that they stand against [Obergefell], but we'll see what happens. It depends on the judge."
However, Trump has never overtly championed same-sex "marriage."
In 2000, he told the gay rights publication The Advocate that he believes marriage is "between a man and a woman." Trump briefly supported civil unions but then opposed them, according to the homosexual lobby group the Human Rights Campaign (HRC). The HRC called him a "consistent opponent of marriage equality."
Religious freedom
One of Trump's main religious freedom issues during his campaign was repealing the Johnson Amendment, which threatens churches with the loss of their tax statuses if they endorse political candidates.
He also strongly criticized Clinton's support for Obama's coercive contraceptive mandate.
"Hillary Clinton supports forcing The Little Sisters of the Poor who have taken care of the elderly poor since 1839, [to] pay for contraceptives in their healthcare plan (even though they have never wanted them, never used them and never will), and having the government fine them heavily if they continue to refuse to abide by this onerous mandate," Trump wrote in his letter to Catholics. "That is a hostility to religious liberty you will never see in a Trump administration…I will defend your religious liberties and the right to fully and freely practice your religion, as individuals, business owners and academic institutions."
In this letter, he promised to protect homeschooling, end Common Core, and expand educational choice.
At the Values Voter Summit, Trump also promised to allocate $130 billion for school choice and fight the persecution Christians in the Middle East face at the hands of ISIS.
The challenge for social conservatives under President Trump
Although many pro-life and pro-family advocates are breathing sighs of relief at having dodged a Clinton presidency, they now have the task of ensuring Trump keeps his pro-life promises–and appoints Supreme Court justices opposed not only to Roe v. Wade but also to same-sex "marriage" and Obergefell v. Hodges.
Who Trump appoints as Secretary of Health and Human Services, Attorney General, and Surgeon General will seriously affect religious freedom, the health services tax dollars fund or don't fund, and American social policy.
Additionally, Trump will have the opportunity to reverse some of President Obama's executive orders and regulations pushing gender ideology on the country. For example, a new federal regulation forces doctors to ignore science and their medical judgment and perform sex change procedures on children, even if the doctor believes the treatment could harm the child. The state of North Dakota and several hospitals and health clinics are challenging the law in federal court.
Soon, it will become apparent if Trump will fulfill his promises to the social conservatives who helped elect him or if he will simply pay life and family issues lip service–at best.