by
Tom Purcell
on Mar 17, 2015 in
Featured
,
Government & Politics
,
Humor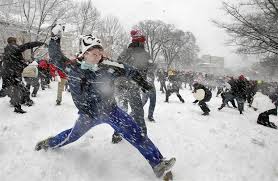 I admit it: I love the snow and the cold.
I love to be outside, gazing up at the stars on cold, crisp evenings. I love how the snow blankets my hillsides. And most of all, I love how snow disrupts daily life — particularly in Washington, D.C.
I lived in Washington for nearly eight years. No sooner do a few flakes fall from the sky there than incompetent drivers are in a panic and bureaucrats in the Office of Personnel Management make the call to shut down much of the federal government.
It's ironic, if you think about it. The very same bureaucrats who desire to run every aspect of our lives are sent into panic and chaos because little white flakes are falling from the sky.
As cities in the North are pelted with several feet of snow, the sissies in Washington, barely receiving a proper dusting, shutter school buildings and government programs as though the end times were upon us. They do so not because too much snow falls, but because more snow might be headed their way.
The pubs in D.C. are always packed on such nights, as thousands of non-essential government employees — and there are lots of those — are required to stay home, which means they can afford a throbbing hangover in the morning.
Washington has long been unique this way. If you need someone to create a nationalized health-care system or initiate any of dozens of new programs that use our own money to tell us how we must live and work, there are thousands of individuals at your disposal.
These people happily sit in climate-controlled office buildings, crunching statistics, generating reports and performing many other activities without any regard to reality — so long as little white flakes don't fall from the clouds.
But ask these same people to melt snow so the cars won't wreck and they will look at you the way a dog would if you asked it to discuss quantum physics.
If you're from Pittsburgh, or most other places outside of Washington, you tend to have a more practical approach to life. If your furnace breaks, you shop for a high-quality furnace at a good price and hire someone to install it.
If you're self-employed, as I am, and don't deliver, you won't get more work. If you don't get work, you will eventually be without shelter or heat. In Pittsburgh, you see, you live in reality.
When snow falls, you get out your shovel and remove it — and you also help make sure your neighbors, particularly your elderly neighbors, are safe in extra-cold conditions.
But if you're from Washington, you're wired the opposite way. You do work that isn't necessarily necessary, and are well paid for it. If you work in politics, you can lie, cheat and slander others to get ahead — and if you get caught, depending on your political party, you'll not only NOT get fired, you'll probably get promoted.
So it's no wonder that many folks in D.C. don't have the first idea how to melt snow, that being something that actually matters.
It's no wonder that otherwise all-knowing Washingtonians, who promise to do a better job running our lives than we can, are barely able to survive the relatively mild winters that are common to their region.
But that's not all bad. As long as the snow and cold keep their town shut down, no new taxes or spending programs can be launched.
That's why I love the snow and the cold so much.