by
Fathers for Good
on Aug 01, 2014 in
Featured
,
Health & Fitness
,
Marriage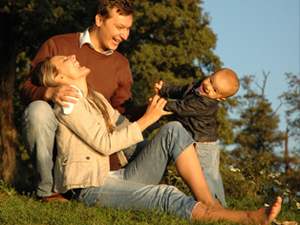 Natural Family Planning (NFP) Awareness Week was July 20-26, with the theme "Natural Family Planning: It's Worth It. Join the Revolution!" – taken from an address of Pope Francis at World Youth Day 2013. The Holy Father asked the assembled youth to see marriage and family life in a new light and "to be revolutionaries" against a culture that "sees everything as temporary" and "ultimately believes you are incapable of responsibility" and "true love."
Based on observing the natural signs and symptoms of fertility and infertility in the female menstrual cycle, NFP is the general term for scientific, natural and moral methods of family planning that can help couples achieve or postpone pregnancy. Both love-giving and life-giving, NFP attracts teachers and practitioners in parishes across the United States. Recently Fathers for Good interviewed three young, married couples about their experiences with NFP.
A 'Mustard Seed' in Texas
The Counts from Sugar Land, Texas, first learned about NFP in a required three-part series during their marriage preparation classes. Jillian, 31, and Jacob, 33, found NFP "very much scientific, logical, healthy and reliable," but hesitated to use it for years because an ob/gyn physician who prescribed hormonal contraceptives for Jillian due to a previous condition. Eventually, they found a reproductive endocrinologist who "respected our NFP use, insisted he see our NFP charts" and ran "simple blood tests" to return Jillian to pain-free menstrual health.
The Counts have used NFP despite a series of daunting challenges during their nine years of marriage. They suffered two miscarriages between the birth of their 8-year-old and 5-year-old sons. Jillian also "endured a life threatening injury resulting in a near-death hospital stay" and a cancer diagnosis not long afterward.
"That was one of the hardest times in our marriage and, during those times, we really relied on our faith in God, each other and the effectiveness of NFP," she said.
Today Jacob and Jillian teach the Standard Sympto-Thermal Method of NFP in the Archdiocese of Galveston-Houston. They find NFP "really the mustard seed" in their "trying to live our lives as Catholics."
Improving Wellness in Wisconsin
The first time that the Cripes from Holmen, Wisconsin, learned about NFP was from a wedding gift – a one-year subscription to Family Foundations, published by the Couple to Couple League. Although Rebecca and Cory, both 35 and with three young children, admit that the issues usually "saw the garbage can before our eyes ever saw them," they've gone on to practice NFP for over eight of their close to 11 years of marriage.
They explain: "It is in agreement with the Catholic Church and her teachings on the fruitfulness of marriage, there are no side-effects to this form of family planning, it empowers couples through knowing their bodies and what their bodies are saying in regards to fertility and obviously it helps communication between spouses."
It was their searching in sickness, and the communication involved in that search, that led Rebecca and Cory to NFP and health. Rebecca experienced constant nausea early in their marriage. When she made her first sacramental Confession in over a decade, she began to realize, with the help of a priest, the "harmfulness" of using contraception. She researched more about the side effects of hormonal contraception and the possible cause of her nausea. Cory surprising Rebecca (and himself) in supporting their decision to stop using birth control and start using NFP.
Improving health and wellness is a professional affair for the Cripes. Cory is a fitness professional and Rebecca is a registered dietician. NFP remains part of their plans even as it continues "a long commitment where we need to stay consistent with charting and observing signs of fertility."
Taking Temps in Tempe
Early in marriage, Lisa McDaniel was being treated for thyroid cancer. She and her husband, Joe, both 34 and from Tempe, Arizona, used NFP "confidently but very seriously to postpone pregnancy" at that time. They are married for three years and parents of a 9-month-old son.
When Joe was sent by his engineering job to Afghanistan for an entire year beginning in 2011, Lisa saw him only twice, for only two weeks each visit. Such infrequency resulted in their adopting "a different family planning intention" for each day of their visits, using Lisa's fertility charts to guide them.
Charting isn't just a personal practice for Lisa. She's a certified ob/gyn physician assistant, Natural Procreative (NaPro) Medical Consultant and Creighton Model Practitioner. She works with women's NFP charts daily "to pick up underlying health problems and treat them properly without using birth control." She's been teaching NFP to engaged and married couples in the Diocese of Phoenix since 2006.
In Familiaris Consortio, St. John Paul II celebrated how NFP involves "accepting dialogue, reciprocal respect, shared responsibility and self-control" (32). The Catechism of the Catholic Church underscores how its methods "respect the bodies of the spouses, encourages tenderness between them and favor the education of authentic freedom" (2370).
The Counts, Cripes and McDaniels haven't just learned these teachings about NFP. They've lived them, found them permanently worthy, and perhaps made themselves and other couples more aware, responsible, truly loving, contemporary countercultural revolutionaries.