by
Wendy Wright
on Apr 28, 2012 in
Contraception & Abortion
,
Featured
,
Live in Christ
,
On Media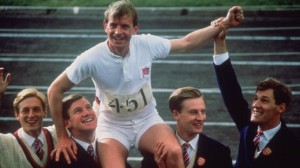 The glorious story of Eric Liddell will soon grace a London stage just as issues of conscience make headlines with Christians defending religious freedom from coercion.
Chariots of Fire, the Oscar-winning film of Olympic runner Eric Liddell's refusal to race on the Sabbath, is being adapted into a play to usher in the 2010 Olympics this summer in London.
It's a marvelous opportunity to revive a beloved British story of an Olympian's faithfulness. Hugh Hudson, director of Chariots of Fire and who came up with the idea of a stage adaptation, gave a deeper reason for the timing in addition to London hosting the Olympics.
"Issues of faith, of refusal to compromise, standing up for one's beliefs, achieving something for the sake of it, with passion, and not just for fame or financial gain, are even more vital today," Hudson told the London Evening Standard.
Chariots of Fire was the brainchild of producer David Puttnam who was looking for a story about someone who follows their conscience along the lines of A Man for All Seasons about Sir Thomas More.
Liddell's and More's unflinching obedience to God inspires Christians and non-Christians alike. Yet, like so often in history, their lessons are lost on today's villains who consider conscience and faith trivial obstacles for Christians to easily set aside to assist others' demands for abortion and acceptance of homosexuality.
Both men's courage illustrates why the framers of the Universal Declaration of Human Rights recognized, "Everyone has the right to freedom of thought, conscience and religion."
Yet this is not a settled issue for governments and activists who insist on "reproductive and sexual rights." For them, license to engage in any sexual conduct and the right to force others to accommodate illicit activity takes precedence over the freedom of conscience.
Hopefully, Chariots of Fire will spark discussions over courage and faithfulness to follow God despite the cost. It's a timely reminder that humble obedience to faith carries its own rewards.