by
G. Tracy Mehan, III
on Feb 05, 2013 in
Art & Architecture
,
Contraception & Abortion
,
Cooking & Food
,
Featured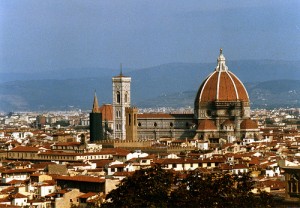 Still pining over our combined pilgrimage-vacation to Rome last year, my wife and I decided to participate in the Year of Italian Culture 2013 at the National Gallery here in Washington, D.C. There we were able to gaze upon Michelangelo's David-Apollo, which is on loan to the Gallery from the Museo Nazionale del Bargello, Florence, through March 3. It is tastefully displayed in a small rotunda all its own.
The last time this marvelous statue came to America was in 1949, coinciding with Harry Truman's inaugural reception.
The statue, a male nude, is reminiscent of the artist's earlier, more famous statue of David but tantalizes with ambiguity since the artist stopped work on it at the point where it could have become, according to his own inclination, either the biblical character or the pagan god.
Evidently, the great artist had a habit of leaving sculptures incomplete or non-finito with a view to letting the imagination run wild as to what might have actually emerged from the marble.
Karen Wilkin, writing in the Wall Street Journal, notes "that Michelangelo is supposed to have said that he simply 'carved away everything that wasn't the sculpture.'"
In the David-Apollo there is an undefined form below the right foot which elevates it, thus bending the knee. The hips and shoulders shift into a twisting or spiraling movement, a pose called theserpentinata or serpentine. The left arm reaches across the chest and the face turns in the opposite direction.
Michelangelo left the flesh area unfinished, revealing chisel marks all over. He also left incomplete the tree trunk supporting the body as well as a rectangular area on the subject's back which might have become either a quiver or a sling depending whether or not this was to be Apollo or David. The form or lump under foot might have become the head of Goliath. Again, the subject of this work of sculpture is simply unresolved.
We were informed that a 1553 inventory of the collection of Duke Cosimo I de' Medici called the work "an incomplete David by Buonarroti," a common Florentine symbol of resistance to tyranny. However, previously, in 1550 Michelangelo's biographer Giorgio Vasari called the statue "an Apollo who draws an arrow from his quiver."
Without delving into the politics of Florence which are, well, Florentine, it should be noted that Michelangelo, like Machiavelli, was a supporter of the republican cause against the Medici family but then, again, like Machiavelli, tried to curry favor with the powers that be after the republic was demolished. This adds more complexity to the mystery of David-Apollo.
Yes, just another Italian masterpiece by a great Italian master. For sure, it is a small one but delightful and more than sufficient to enlighten a cold, gray Saturday afternoon in Washington.
Whatever would we do without Italians? Let us not forget Verdi, Puccini, Pavarotti, Caravaggio, Bernini, Dante, St. Francis, and the "red priest" — Vivaldi. Yes, I'm free-associating and could go on and on. I could do a whole riff on Italian-Americans such as Frank Sinatra, Marcella Hazan, Joe DiMaggio, and Francis Ford Coppola (OK, partial credit here for only the first and second installments ofThe Godfather trilogy.)
The Italians have given us great art, sculpture and architecture (think Palladio). They even make some pretty decent films.
And then there's the magnificent culinary experience of Italian cooking that makes life worth living wherever first-, second- or third-generation Italians have pulled out their family recipes and opened a restaurant. Growing up in South St. Louis, I was a stone's throw away from the Italian neighborhood, "The Hill," which had fine Italian restaurants, across all price ranges, block after block. These spilled over into my neighborhood. Some fellow would get off the boat, open a storefront restaurant without even a liquor license. The place would be jammed in a matter of weeks, the liquor license was obtained and soon he opened a second establishment.
One of our favorite restaurants on The Hill, Cunetto's, used to be a pharmacy. The owners cooked their own dishes during lunch breaks. It was so good they eventually moved into the restaurant business full time. The place is always packed and the bar overflowing with good cheer and great expectations of the meal to come.
There is, however, a dark cloud looming over the Year of Italian Culture 2013. The Italians have one of the lowest birth rates in the world with a fertility rate of 1.38, slightly higher than Germany but lower than France. Japan is at 1.32.
I am not casting stones. Jonathan Last, author of What to Expect When No One's Expecting: American's Coming Demographic Disaster, notes that in the U.S., white, college-educated women have a fertility rate of 1.6, which is slightly higher than the 1.54 for Chinese women who are subjected to that regime's brutal one-child policy. America's total fertility rate is 1.93, now below the replacement rate of 2.1.
But the thought of the warm, inviting Italian peninsula, once populated by extraverted, outgoing families, devoid of children, shrinking in size and vitality, is really too much to bear. This is truly a crisis of world-historical proportions: a world without Italians or at least a sufficient mass of them to sustain the best things in life — art, music, food and the joy of living. In sum, we need more Italian lovers who are generous with each other and the next generation. But, I confess, this is a bit selfish on my part. I love Italians.
The world can survive without Italians, but it would not thrive.