by
ACN-USA News
on Jan 31, 2014 in
Featured
,
International Issues
,
Those in Need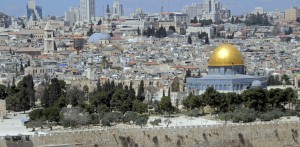 A local Catholic expressed his hopes and concerns regarding the proposed building of a wall in the Holy Land that could result in Christian families losing their homes.
Speaking on Monday, Jan. 27, with international Catholic charity Aid to the Church in Need (ACN), Auxiliary Bishop William Shomali of the Latin Patriarchate in Jerusalem hopes that Israel's Supreme Court will find a just solution in the Cremisan case.
On Wednesday, Jan 29, the Supreme Court judges in the final court of appeal will hear the objections of Christian plaintiffs against the building of the Israeli security barrier.
The court had originally set the date of the hearing for December 25, but after protests by the plaintiffs it was moved to January 29.
Shomali, who is responsible for the Palestinian territories in the Latin Patriarchate, said, "My skeptical head tells me there will not be a decision that will benefit the people of Cremisan, because Israel's security is holy."
"But my heart refuses to resign and tells me there is still hope. After all, we have prayed a great deal and made a lot of effort. So the flame of hope is not yet extinguished."
At stake is the threatened confiscation of the properties of 58 Christian families in the Cremisan Valley at Beit Jala, near Bethlehem, to build the barrier between Israel and the occupied territories.
Two convents in the largely agricultural district are also affected.
The Israeli army emphasizes that the planned course of the wall through the terraces of the Cremisan Valley is strictly necessary for reasons of security. The Palestinian plaintiffs do not see this as convincing and point to alternative routes.
Most recently, an objection to the army's plans was rejected last year by a Tel Aviv court.
Every Friday, those affected in the locality pray for a just solution. Last year the Catholic pastor of the community, Ibrahim Shomali, handed over to the Auxiliary Bishop a letter to Pope Francis in Rome in which the Pope was requested to help.
But Auxiliary Bishop William Shomali dampened the hopes expressed by some of those affected that the Pope might make a public stand on behalf of Cremisan during his visit to the Holy Land in May.
"The Catholic Church has intervened in various ways, for example through the US Bishops' Conference. The Cremisan file is on the desk of Secretary of State Kerry," said Shomali.
"But with regard to a possible intervention by the Holy Father himself, I must remind you that there are many questions of justice in the world and in the Holy Land. Should the Pope involve himself, he will do so discretely, for example in private talks and through the Nunciature."
"Pope Francis wants results, not just confrontation."