by
Br. Benet Exton, O.S.B.
on Mar 09, 2011 in
On Books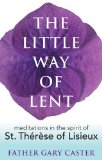 The Little Way of Lent: Meditations in the Spirit of St. Therese of Lisieux is a very good tool to use in one's Lenten journey. It is written by Fr. Gary Caster, a priest of the Diocese of Peoria. He is a contributor to the popular Magnificat magazine and to the EWTN TV network and the author of several books. His thesis for a Master of Arts in Church History was on St. Thérèse of Lisieux
 who is affectionately known as the Little Flower.
Fr. Caster wrote this book of reflections on the scripture readings of the Lenten daily Masses with St. Thérèse's spirituality of the Little Way as the background for them.  He includes an introduction that explains what this book is about and how to use it.  He covers all the Lenten daily Masses and the Sunday Masses for Year A, B, and C — which not all reflection books on Lent do — so one can use this year after year.  Each daily reflection ends with a quote from St. Thérèse.  The book is divided according to the weeks of Lent.  Each week starts out with a quote from St. Therese, many of which quotes come from the saint's autobiography, Story of a Soul .
Fr. Caster shows through St. Therese's example how one can do little things to improve one's life and spirituality through the holy season of Lent.  This book is highly recommended to those looking for a book of reflections on the Mass readings for Lent or anyone who wants to "overcome fear by concentrating on God's mercy and to accept Lent as a season of joy."
Also by Fr. Gary Caster: he is the author of Mary, in Her Own Words: The Mother of God in Scripture Mary, in Her Own Words: The Mother of God in Scriptureand a contributor to Praying with St. Paul: Daily Reflections on the Letters of the Apostle Paul.