by
Elena Maria Vidal
on Dec 08, 2011 in
Featured
,
On Books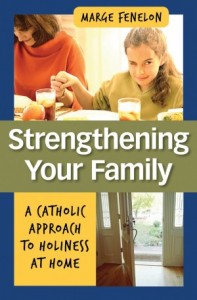 Book Review: Strengthening Your Family: A Catholic Approach to Holiness at Home, by Elena Maria Vidal
Through our baptism, we're called to be royal, priestly parents to our children, exercising our God-given authority with kindness and benevolence. When we truly understand the essence of our authority, we can be leaders and nurturers of our children and help them to become the nurturers and leaders of the future.~ from Strengthening Your Family by Marge Fenelon, p.176
I did a lot of babysitting when I was young and became quite proficient at handling other people's children. I wondered at some parents' inability to control their children in church and other public places, since I rarely had any problem getting my little charges to listen to me. There was no doubt in my mind that I would someday be a  model parent with model children, all sitting quietly in the pew with rapt attention. However, when I finally married, God in His wisdom saw fit to send me the most rambunctious little girl ever created, the kind of child who loves to perform in public with complete lack of shyness or embarrassment. This has entailed many public displays of what can only be described as naughty behavior. None of my babysitting experience seemed to help in the least; I was in new waters with a new little person and it was as if I had never taken care of children at all.
Because being a parent is uncharted territory for me, I am increasingly in awe of veteran mothers, those who have raised children in today's world. Strengthening Your Family by Marge Fenelon is like a map for mothers through the desert of the modernity. It is a guidebook which I will be referring to again and again over the years, as new issues surface and the road of life takes twists and turns. Marge gives several anecdotes which illustrate ways in which she and her husband Mark have handled various situations with their large and lively family. Bringing up children has not been a sideline for the Fenelons, to be haphazardly pursued when not engaged in attaining career goals. Rather, their family is the means by which they have been called to live out their Christian vocation; it has top priority and is approached with wisdom, firmness, and conviction, all bound together by love. As the author says: "Mark and I believe that family is forever….What [the children] learn now as a nuclear family will carry them through in the future." (p.45)
One thing that struck me about Strengthening Your Family is the grasp the author has on the duties and responsibilities that accompany parental authority. It is often difficult for contemporary people to understand the exercise of authority in a hierarchical structure, a structure such as the family, or the Church, since we are infatuated with the idea of total equality. To quote from the book:
The heavenly Father has called us to his own glory and excellence. As royal children, we take on a royal attitude. It's royal in that we hold ourselves accountable to rise above the degradation and godlessness of the world around us. It's royal in that we adhere to a scale of values that uplifts and inspires us. It's royal in that we don't think we're better than others but work to become better than we are. It's royal in that we're granted the ability to know and love God, to walk in the Holy Spirit, and to love whatever God loves. It's royal in that we live in the reality that we are cherished by God above all things.

According to the Church, through our baptism we become not only a royal people, but also priests and prophets. As a royal people, a royal married couple, a royal family, our vocation is to serve — with Christ — each other, our Church, and the world in that order of priority, thus fulfilling our royal dignity. Because we are royalty, we live in the "court" of the King's heart, attaching ourselves to him and aligning ourselves to his will for the sake of the Kingdom. (p.128)
While these are things I have long known, reading about the royal vocation of the baptized soul in the context of the adventures of the Fenelon Clan helps me to have a fresh perspective of it and other eternal truths. Books that give practical, down-to-earth advice on how to apply faith to daily existence are always a help for me. Marge's book is particularly engaging and reading it is like visiting in her kitchen, homey and comfortable but inspiring, for all that she writes is grounded in Scripture and Tradition. Her devotion to the Holy Family particularly shines through; we see how Jesus, Mary and Joseph are never far away, not even from the most trying domestic scenarios. I recommend this book to anyone starting out on the journey of parenthood as well as to those who are already well into their journey, since it is full of hope needed for the long road ahead.
(*NOTE: Strengthening Your Family was sent to me by the author in exchange for my honest opinion.)