by
Shane Kapler
on Apr 02, 2012 in
Featured
,
On Books
,
On the Job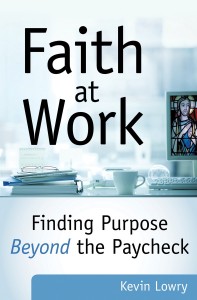 You know, when a book has endorsements from Cardinal Donald Wuerl, Scott Hahn, Kevin Vost, Marcus Grodi, and Mike Aquilina (to name a few!!), a thumbs-up from Shane Kapler is obviously superfluous.  But in the spirit of "when has that ever stopped me before?" I have to share my deep appreciation of this book.
The Christians who impress me most, who really stand out as being especially intimate with God, never say what I expect them to say.  Instead of telling me the "a" or "b" I expect, they say something completely original.  Their love of God and years of intimacy enable them glimpse ways, paths, where I see only dead ends.  That's what I like about Kevin Lowry and his Faith at Work: Finding Purpose Beyond the Paycheck.
Lowry has worn many different hats during his professional life:  door-to-door salesman, accountant, senior vice-president at an international company, and now executive vice-president and chief operating officer of The Coming Home Network.  Because of that, Kevin shares what he has actually lived.  This book is filled with stories and through them, Kevin shares the hard won insights and principles that guide his work life as a Catholic Christian.
One of the most striking principles for me personally was drawn from his story of needing to find a new job, one that would allow him more time at home, when his seventh child, David, was born with a rare, congenital disease.  That's a scary position for any parent, but add to it the stress of being the sole breadwinner, and you've got fertile ground for a coronary!  But Kevin and his family came through it – with much prayer, a leap of faith, and then the right door opening; and Kevin learned a principle that I want to apply to my own incredibly busy life as a disciple, dad, and full-time employee:
Assuming that [God] didn't set us up for failure, it follows that we always have time to do God's will.  If we don't have time to do everything, there are items on our to-do list that shouldn't be there, or shouldn't be there right now.  The point is, our lives should follow a sense of calling, and this demands that we prayerfully discern, somewhat precisely, what God wants us to do.  In this case, God's will became clear as we prayed and followed (pp.34-35).
Kevin shares not just his own story but those of numerous coworkers who inspired him through the years.  I like the size of the chapters – at five or six pages they get right to the point and end with both "Action Steps" and "Questions For Reflection."  Being able to pack so much insight into a brief space says a great deal about Kevin's skill as a writer.  Chapters can of course be read in succession, but they also stand alone quite nicely, allowing you to jump to what is most pressing in your own work life and easily reference it down the line.  Just before I, for example, had a meeting with someone who had treated me very rudely in the past, I jumped ahead to chapters 11 and 12, "Forgive Us Our Trespasses: How to Overcome Interpersonal Strife at Work Through Forgiveness," and "I Love a Challenge: How to Overcome Workplace Challenges Through Perseverance."  They were just the dose of reality I needed going into that meeting which, I'm happy to say, ended very positively – an honest to goodness "win-win."
Faith at Work: Finding Purpose Beyond the Paycheck is an extremely good read.  It is a rubber-meets-the-road approach for putting God at the center of our daily grind, whatever that grind may be!  So for what it's worth, you can add this Christian's name to Faith at Work's illustrious list of fans.