by
Wendy Wright
on Feb 08, 2013 in
Contraception & Abortion
,
Featured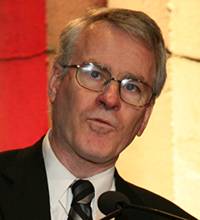 Senator Tom Coburn's tearful tribute of Michael Schwartz on the Senate floor in December threw a spotlight on a humble yet fierce advocate for the weak. A pro-life advocate since before Roe v. Wade, Michael devoted his life, intellect and influence to his driving passion: defending the unborn and defenseless.
For many, Michael was not Senator Coburn's chief of staff, but a friend and model of what it means to love justice and mercy.
Through "the kindness he has shown to everyone he's encountered, whether to a homeless person on the street or a leading senator in the halls," Michael reminded Coburn, "that we are all equal, regardless of position, in the eyes of God."
This past weekend, Michael succumbed after a nearly two year battle to Lou Gehrig's disease.
The grandson of an Irish prizefighter, Michael was born in Pennsylvania's coal mining country. "My father was a drunken, adulterous, wife-beater. He became for me the permanent image of what I did not want to be." He never pulled verbal punches when a colorful description would make the abstract real, calling the infamous Supreme Court decision "Roe vs Wade Hate Crimes Against the Human Race."
In 1969, anti-war protests inspired him to start a pro-life student movement named the "Sons of Thunder" after apostles John and James. Their first action was a "prayerful occupation" of Planned Parenthood in Dallas, which was flying girls out of state for abortions.
A living encyclopedia and voracious reader, Michael recounted how prior to Roe, states that legalized abortion believed it would be rare and safe. Instead, they became "abortion havens."
Three days after Roe came down, Michael helped form the group that organized the March for Life. He actively volunteered in all levels of pro-life work, with a special interest in pregnancy help-lines assisting women.
He soon became a strategist in the conservative movement, coordinating pro-family policies, devising legislation, helping found groups, hosting TV programs, training international pro-life leaders and serving Coburn in both the House and Senate. No one questioned his stint leading Concerned Women for America's policy department – his renowned passion for protecting life and family made this man the best choice for a pro-woman organization.
He earned the admiration of bishops, but risked that to confront sexual abuse within his beloved Catholic church. After trying to get church leaders to deal with the molestation of boys by priests and subsequent cover-up, in 1989 he brought three people to tell their story of abuse to the media.
As the press conference began, Michael, trembling, whispered, "Lord, we are afraid. We ask for courage to do what is needed and face consequences we will have to suffer." His early work led to reform.
In 2005, the Washington Post identified Michael as an influential figure able to leverage his extensive network to impact the Republican agenda. Unmentioned is how he – a Democrat – gained this loyal network through offering friendship and ideas to anyone who asked.
But he recognized the limits of the law. In one of his final speeches, he stated, "The primary objective of our legislative efforts should be to move public opinion in a pro-life direction by raising issues" that set "the well-being of women against the profits of abortionists . . . That way, even if these initiatives are not passed into law, they move people out of the conflicted camp and into the pro-life camp.  And when they are passed, they will financially weaken the abortion industry and cause more abortion vendors to close."
The chief strategy to end abortion, he advised, is prayer – for mothers in danger of abortion, and for the conversion of abortionists.
The best part of the movement, he believed, is pregnancy centers: "Perhaps the reason why God allowed the evil of abortion to fall upon us was to awaken us to the need" to help women with untimely pregnancies.
Michael met his wife Rose Ann in college. They have three sons, a daughter and a growing number of grandchildren. His legacy will live on through them and the many who never knew him, touched by the ripple of his love and good deeds.