by
Eric Scheske
on Sep 09, 2011 in
Featured
,
Personal Finance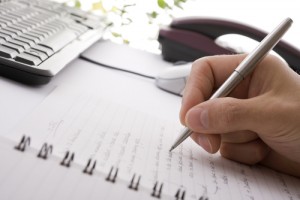 So, you finally did the responsible thing: you executed a Last Will and Testament. If you consulted with an attorney, you probably got a Durable Power of Attorney for Financial Decisions and a Durable Power of Attorney for Medical Decisions, too.
Good for you.
But you're not done yet.
You see, estate planning is kind of like a hockey game. In the first period, you think about what you want for your estate and you select an attorney. In the second period, you meet with the attorney, prepare the documents, then sign them.
Most people stop after the second period. Unfortunately, many attorneys also stop after the second period.
Don't. There's still a lot to be done. Your attorney may have discussed many of them with you. I discuss them with my clients, but many of them don't listen. And even if they are listening, I know they're going to forget a lot of things.
If you fall into that (rather large) group, here's a checklist of things to do during the third period:
1.Take notes while meeting with your attorney. Put the notes with your estate planning documents. If they're not legible, type them up.
2. Give copies of the estate planning documents to each person named as a fiduciary in the documents, unless you have reasons not to give them a copy (the potential reasons vary greatly, but should be discussed with your attorney).
4. If your Will allows you to distribute items of personal property through a separate list that you can modify and update over the years, prepare the list, using the formalities described in the Will. Don't merely write your loved ones' names on items of personal property. This approach works if everyone is amenable, but if there is squabbling (and I've seen a lot of squabbling), it's not legally enforceable.
5. Make sure your personal representative (i.e., executor) and your attorney-in-fact (the person named to take care of your affairs pursuant to your power of attorney) has your financial information. You should include the name of the institution, the type of account, account number, and contact phone number. If you invest online, make sure the information includes the necessary user names and passwords. Make sure they know where to find your account statements and checkbook.
6. Make a list of your assets and your income. Update the list quarterly.
7. Make a list of your recurring bills and your automatic deductions and deposits to your checking account. Indicate the source, amount, and day of the month (or quarter or year) the deposit or deduction hits.
8. Make a list of all your advisers: attorneys,  insurance agents, brokers, and accountants.
9. Make a list of all your emails and the email passwords, so friends and relatives can be notified of your passing or prolonged illness.
That's it. Third period accomplished. It's not hard, but it does take a little extra effort.
But the effort is worth it. After all, it'd be a shame to get so close, only to have things fall short after the buzzer.
 (© 2011 Eric Scheske)