by
Kathleen Gilbert
on Sep 28, 2011 in
Featured
,
Life Issues & Bioethics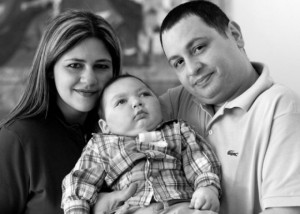 The dramatic story of Joseph Maraachli, popularly known as "Baby Joseph," came to its final conclusion yesterday.
Alex Schadenberg of the Canada-based Euthanasia Prevention Coalition said Wednesday morning that Baby Joseph, who burst into international headlines earlier this year when Canadian doctors scheduled to remove him from life support against his family's wishes, died at home 4:40 p.m. Tuesday, surrounded by his family. 
"Joseph Maraachli lived a life that changed Canada," said Schadenburg, whose intervention was pivotal in saving Joseph's life. "My thoughts and prayers are with the Maraachli family."
Baby Joseph's father, Moe Maraachli, wrote on the official family Facebook page yesterday, "Joseph pass away very comfortable and peace fully like what i ask for him."
"I would like to thank all who contributed to the support of Joseph," he said. "I thank you very much."
Baby Joseph's story began in February of this year when the Ontario Superior Court rejected an appeal by his parents to bring him home where he could die under their care. He had been previously diagnosed with severe neurological issues, for which doctors said there was no hope of recovery.
The family contested claims that their son was in a "permanent vegetative state," offering footage showing him flailing and reacting to tickling. Their request was that their son be given a simple tracheostomy, which would enable him to breathe on his own, and be sent home where he could die.
After the decision of the Ontario court, doctors immediately scheduled the removal of Baby Joseph's life support, meaning almost certain death for the young child.
"Monday at 10 am. they will kill my baby," Moe Maraachli had told LifeSiteNews shortly after the ruling.  "There's no more humanity.  There's no more chance.  I've tried everything for him.  No more appeals, nothing."
However, anti-euthanasia and pro-life advocates rallied around the Maraachli family, and effected a dramatic 11th-hour rescue.
Schadenberg and his organization were able to secure professional legal help, with the result that the removal of Baby Joseph's life support was postponed at the last minute.
After that, with the hospital continuing to try to secure legal permission to take Baby Joseph off life support, Fr. Frank Pavone and Priests for Life stepped in. They arranged for Baby Joseph to be flown to Cardinal Glennon Children's Medical Center in Missouri for a tracheostomy, and offered to foot the bill for Joseph's considerable healthcare costs.
Baby Joseph defied critics by breathing on his own following the tracheostomy, and lived several more months at home.
Fr. Pavone of Priests for Life wrote on Facebook this morning that his organization is "grateful to all who helped to give him and his family more time and joy together."
"This young boy and his parents fulfilled a special mission from God," Fr. Pavone said in a separate statement. "Amidst a Culture of Death where despair leads us to dispose of the vulnerable, they upheld a Culture of Life where hope leads us to welcome and care for the vulnerable."
"From my first conversation with Baby Joseph's parents, they expressed to me their trust in God. They had no demands of Him regarding how long their son would live. They just wanted to fulfill their calling to love their child unconditionally and to protect him from those who considered his life worthless."
Part of the reason for the widespread interest in Baby Joseph's case may be due to its timing, which coincided with the debate in the United States over "death panels" in the new health care law. Schadenberg has warned that Joseph's case reveals that Ontario is effectively creating a system of such "death panels" where doctors are authorized to force life and death decisions on patients.